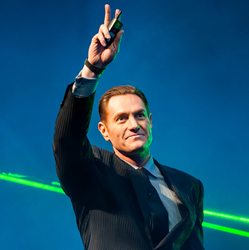 At Elite, we are always looking for the best technology, best resources and best service practices for our agents to use to serve our clients...I had to share [this workshop] with other members of the public." -Paul Mayer
Honolulu, Hawaii (PRWEB) March 06, 2017
Elite Pacific Properties has arranged an unprecedented full day Success Workshop in Honolulu from preeminent success mentor, Darren Hardy. Hardy is the New York Times bestselling author of The Compound Effect and The Entrepreneur Roller Coaster, and former publisher of Success Magazine. Hardy will be holding a special, customized Workshop tailored specifically for Elite Pacific Properties, its partner firms and guests. At this unique event, co-sponsored by Title Guaranty and Honolulu Homeloans, Hardy will be sharing strategies, tactics and insights that he has never before presented outside of his invitation-only, $9,500/person High Performance Forum.
His keynote address, Igniting the Compound Effect, takes the premise of his NYT Bestseller The Compound Effect and expands on its principles. He believes that even the smallest daily decisions people make shape their future for better or worse. In the opening speech, Hardy will outline the operating system that he believes underlies all significant achievement and deliver a complete action plan to enable audience members to start executing immediately.
Paul Mayer, Managing Partner at Elite Pacific Properties, was thrilled to have convinced Hardy to put on this one-of-a-kind event. "For years, I have encouraged all of the agents, partners and support staff in our organization to listen to, read and implement the success strategies of Darren Hardy," said Mayer. "While recently attending his High Performance Forum, I was determined to find a way that my entire team could benefit from learning his powerful strategies live and in person. When I discovered he was planning to be in Hawaii for a private keynote speech, I reached out to him and proposed this unique, full-day Workshop event. At Elite, we are always looking for the best technology, best resources and best service practices for our agents to use to serve our clients. Once I was able to confirm the Workshop, I had to share it with other members of the public. This will be of great benefit for business people all over Hawaii."
EVENT DETAILS
What: Darren Hardy One Day Custom Workshop includes:

The Igniting the Compound Effect Keynote
The Sales and Marketing lessons from his High Performance Forum (a $9,500 forum)
Dozens of powerful strategies and actionable ideas you can implement to increase customer satisfaction, referrals, repeat business, and increase revenues, margins, and profits
When: March 14, 2017; Doors open at 8:30 am, the event runs from 9 am to 5 pm
Where: Pomaika'i Ballrooms, Dole Cannery located at 735 Iwilei Road, Honolulu, HI 96817
How to attend: http://elitepacific.com/darren-hardy-event-2017, $495 pp or for bulk sales greater than 10 tickets, please email Paul Mayer at Paul(at)ElitePacific(dot)com. Seating is limited.