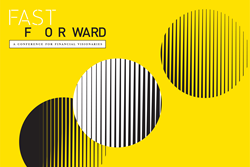 New York, New York (PRWEB) March 07, 2017
FastPay, a financial platform that provides credit and payment solutions to digital industries, announced the launch of their inaugural conference, FastForward, a one-day, invitation-only summit for leading financial executives and officers in the digital media ecosystem. FastForward is the company's first and only proprietary conference in the industry specifically targeted to the financial community.
"The economic undercurrents impacting the financial health of our industry are largely unchartered. Information sharing during this forum, learned through case studies, insights and trend analysis, will unlock increased revenue potential and accelerate growth for companies operating in the digital media space, only improving the likelihood for greater long-term profitability," said Jed Simon, Founder & CEO of FastPay.
On March 16th at the Prince George Ballroom in NYC, FastForward will bring together a diverse group of some of the most interesting financial innovators and thought leaders, including: Rich Greenfield (BTIG), famous for his commentary on the intersection of media and technology covering companies that range from Facebook to Disney to Comcast, will give a keynote; Brian Wieser (Pivotal), another influential name in advertising and media research who, will open up the day and then be in conversation with Ramsey McGrory (CRO) and Bill Wise (CEO) both from Mediaocean; Terry Kawaja (LUMA Partners), the most active banker in Media and Adtech who has advised on over $6 billion in transactions in the last few years; and Michael E. Kassan who is fresh off MediaLink's big acquisition announcement, will end the day with a fireside chat with Rishad Tobaccowala, Strategy and Growth Officer at Publicis Groupe.
In addition to these highlighted speakers there will be many more industry greats on hand for several compelling panels, as well as mesmerizing entertainment including David Kwong (Now You See Me) NY Times crossword puzzle creator, illusionist and author.
The day promises to be a can't-miss-event for those seeking to enrich their financial knowledge on the industry and beyond, before the end of Q1 2017. Please visit: http://www.fastpayfastforward.com.
For more information, please contact:
Michelle Fiordaliso
press(at)gofastpay(dot)com
phone: (310) 651-9582
FastPay is a financial technology platform providing credit and payment solutions to digital industries. Leveraging proprietary technology and analytics, FastPay dynamically assesses the creditworthiness of borrowers and can issue working capital loans from $5K to $50M+ in as little as 48 hours. Since inception, FastPay has originated over $1.5B in loans and has access to hundreds of millions in deployable capital from partners including Citibank, Wells Fargo, and Hitachi. Headquartered in Los Angeles CA, FastPay has offices in San Francisco, New York, and London. For more information, please visit https://gofastpay.com.