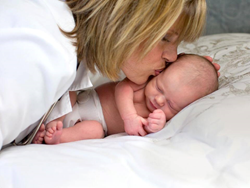 ...as parents and consumers, we all have a right to know what goes into these diapers.
St. Louis, Missouri (PRWEB) March 08, 2017
Over the weekend, an online petition began circulating demanding disposable diaper companies come clean about what materials and chemicals are present in disposable baby diapers. The petition requests the FDA and FTC eliminate special product and package labeling exclusions for baby diapers.
Currently, due to labeling exclusions, baby disposable diaper packages contain little to no information about what is in the diaper. When parents or physicians ask for detailed information about what is in the diapers, disposable diaper companies don't have to respond.
Additionally, there is little to no oversight or outside accountability for disposable diaper manufacturers, either to government agencies or to concerned parents. The FDA does not consider baby disposable diapers medical devices; thus, they are not required to go through medical device testing. Adult disposable diapers are considered medical devices and have stricter regulations. Baby disposable diapers may contain ingredients like petrolatum, oils or other lotions that are intended to help prevent diaper rash, keep a baby's skin soft or prevent contact with wetness, but the packages do not include INCI compliant ingredient decks to disclose these ingredients. Disposable diaper companies have confirmed that their diapers contain small amounts of the preservatives iodopropynyl butylcarbamate and Quaternium-15, which are common contact allergens. The preservative iodopropynyl butylcarbamate or IPBC is not permitted for use in children's leave-on products in the European Union. Additionally, baby diapers are excluded from labeling requirements by the FTC and are nearly the only thing worn by a human, other than a hat or a disposable menstrual pad, where product package labeling isn't mandated by law to fully disclose the amount and type of materials used in the construction of the garment.
Placing this information on packages is important to help parents make informed decisions about their child's well-being.
Jennifer Labit, founder and CEO of Cotton Babies, manufacturer and retailer of cloth diaper lines including bumGenius™, Flip™ and Econobum™ began this petition. After helping thousands of parents over the past 14 years whose babies have experienced diaper rash and other skin issues these parents have attributed to disposable diapers, Labit is finally speaking out. "Regardless of the diapers they choose, caregivers deserve to have readily available information about their product choices. Disposable diaper packages do not fully disclose diaper ingredients. Right now, even pediatricians and dermatologists struggle to obtain full ingredient lists to help parents resolve issues with diaper allergies. There's no good reason not to share this information. If parents and physicians are empowered to make better choices, everyone wins... especially the babies."
Labit is not alone, and it's not just parents who are concerned. Dermatologists and pediatricians have signed on as well. Dr. Rebecca Chibnall, Assistant Professor of Dermatology at Washington University in St. Louis said, "The current lack of disclosure on the part of the disposable diaper companies makes it difficult to precisely identify the potential cause of allergic contact dermatitis. With clear labeling, our smallest patients could receive better care."
To learn more about the petition or to add your signature, visit http://www.IGetToKnow.com, a change.org petition.
Contact:
Julia Lohmeyer
julia(at)cottonbabies(dot)com / media(at)cottonbabies(dot)com (888)332-2243 x236