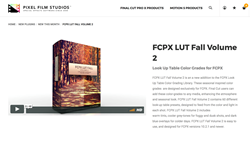 FCPX LUT fall Volume 2 comes 60 different preset that can all be applied by dragging and dropping.
Aliso Viejo, CA (PRWEB) March 07, 2017
FCPX LUT Fall Volume 2 is an a new addition to the FCPX Look Up Table Color Grading Library. These seasonal inspired color grades are designed exclusively for FCPX. Final Cut users can add these color-grades to any media, enhancing the atmosphere and seasonal look. FCPX LUT Fall Volume 2 contains 60 different look-up table presets, designed to feed from the color and light in each shot. FCPX LUT Fall Volume 2 includes warm tints, cooler grey-tones for foggy and dusk shots, and dark blue overlays for colder days. FCPX LUT Fall Volume 2 is easy to use, and designed for FCPX versions 10.2.1 and newer.
FCPX LUT Fall Volume 2 includes everything from warmer Autumn-looking grades, to darker colder tints. These look-up table color grades are added to take each clip to add to the mood and atmosphere. FCPX users have the ability to build on each preset by adding film-grain, overlay gradients, vignettes, and more. Each preset is easily applied and includes easy to use controls located in the Inspector interface window.
FCPX LUT Fall Volume 2 is a simple drag & drop effect. These presets are designed to be dragged to the desired media on the timeline. All 60 presets are located within one effect preset, making the process for any skill level editor as easy as possible. FCPX users can also apply a color tint to the light shades, mid-tones, and dark areas of each shot independently. Completely change the look of a shot with a simple added effect, enhancing the look and feel of each individual media clip.
FCPX editors can utilize the customization controls in the FCPX LUT Fall Volume 2 Loader to adjust the parameters of each shot. FCPX users can be modify and fully adjust each shot to the desired look and effect. They can also make further adjustments to color of the highlights and whites, shadows and darker tones, and mid-tones if they are unhappy with the look of the preset settings. Each Preset comes with Gradient Overlay effects where users can adjust the start and end tones, positions, opacities, blend-modes and more. FCPX LUT Fall Volume 2 is easy to use, and designed for Final Cut Pro X versions 10.2.1 and newer.
Established in 2006, Aliso Viejo, California-based Pixel Film Studios is an innovative developer of visual effects tools for the post-production and broadcast community. Their products are integrated with popular non-linear editing and compositing products from Apple FCPX. Apple, the Apple logo, Mac OS X, and Macintosh are registered trademarks of Apple Inc. in the U.S. and/or other countries. All other trademarks and trade names are the property of their respective owners.