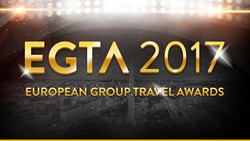 The European Group Travel Awards helps to recognize all the effort and dedication European suppliers put into providing group travelers with outstanding travel experiences
Berlin, DE (PRWEB) March 10, 2017
HotelPlanner.com in partnership with Landor Travel Publications today announced the winners of the 2017 European Group Travel Awards (EGTA), the third annual event honoring the very best suppliers in the industry.
Held on March 9th at the renowned Intercontinental Berlin over ITB Berlin, 18 awards were presented celebrating leading organizations offering the highest quality of group travel experiences and outstanding services ranging from hotels and resorts to tour operators, ground transportation, city destinations, airlines, cruise lines, and more.
Dylan Ratigan, former CNBC Television News Journalist, MSNBC Host, and Documentary Film Producer, hosted the evening's festivities. EGTA highlights included premiere entertainment from Benjamin Fröhlich, one of the city's best Club Scene DJs, vocal performances by "Stars in Concert" a top international act in Berlin, and an afterparty dance mix by DJ and producer David Vendetta. The awards show also included a Diamond and Champagne Raffle giveaway with all proceeds going to the night's charity sponsor AquaAffirm, helping to provide clean drinking water in Bangladesh.
More than 350+ industry executives, travel organizers, and trade publications from across Europe and abroad attended the awards show.
"The European Group Travel Awards helps to recognize all the effort and dedication European suppliers put into providing group travelers with outstanding travel experiences," stated Tim Hentschel, CEO of HotelPlanner.
Congratulations to the 2017 European Group Travel Winners!
Best Group Hotel Brand - Full Service
Winner: Radisson Blu Hotels & Resorts
Runner-up: Leonardo Hotels
Best Group Hotel Brand - Limited Service
Winner: Best Western
Runner-up: Comfort Inn
Best Group Hotel Brand – Luxury
Winner: InterContinental Hotels & Resorts
Runner-up: Taj Hotels Resorts and Palaces
Best Group Hotel Brand - Boutique
Winner: TRYP by Wyndham
Runner-up: Hotel Indigo
Best Resort/Spa Brand for Groups
Winner: Steigenberger Hotels and Resorts
Runner-up: Wyndham Hotels and Resorts
Best Group Tour Operator
Winner: Kuoni
Runner-up: TUI
Best Rail Service for Groups
Winner: Deutsche Bahn
Runner-up: Eurostar
Best Airline for Groups
Winner: Norwegian
Runner-up: Deutsche Lufthansa
Best Ocean Cruise Line for Groups
Winner: AIDA Cruises
Runner-up: Pullmantur Cruises
Best Golf Resort for Groups
Winner: Steigenberger Camp De Mar
Runner-up: Desert Springs Resort
Best City Tour for Group Travel
Winner: Big Bus Tours
Runner-up: Freetour.com
Best Theme Park for Groups
Winner: Disneyland Paris
Runner-up: Legoland Billund
Best Independent Hotel Brand for Groups
Winner: Rosewood Hotels & Resorts
Runner-up: Dorchester Collection
Best City Destination for Groups
Winner: Paris
Runner-up: Stockholm
Best Sport Event for Groups
Winner: Euroleague Basketball Final Four
Runner-up: RFL Magic Weekend
Best Visitor Attraction
Winner: Eiffel Tower
Runner-up: Ice Cave Langjökull – Iceland
Best Travel Association facilitating Group Travel
Winner: ETOA
Runner-up: IBTM
Best Technology Award for Innovation in Group Travel
Winner: Kayak
Runner-up: Expedia
About HotelPlanner
HotelPlanner.com provides group hotel booking services to 3,000 groups per day in the global group travel market. The company's group hotel booking service ensures the lowest rates by allowing customers to receive quotes online directly from hotel group sales managers. HotelPlanner allows customers to book hotels for business meetings, conferences, conventions, family reunions, weddings, extended stays, tours, military reunions, church events, and group travels. The company also owns and operates Meetings.com, a site that provides information, planning and booking services for group, meeting, and individual hotel stays for the corporate, associations and business to business enterprises. With a mission statement geared towards, "Bringing People Together," HotelPlanner & Meetings.com are the global experts for hotel sourcing, providing direct clients and market leading affiliates with unmatched group and event discounted room rates plus localized service levels not available at other travel companies. HotelPlanner's product growth line to date includes acquiring Hotel Hotline, Hotelsatanywhere.com and InternetHotels.com expanding individual and group hotel reservations volume, event ticket packaging, meeting space only bookings, and launched a new campaign with former Television News Journalist Dylan Ratigan. The company is also in the market to do more acquisitions. Founded in 2002, the company has offices in London, England (European Headquarters), Hong Kong (Asian Headquarters), West Palm Beach, FL (USA Headquarters), and Las Vegas, Nevada.
About Landor Travel Publications
Landor Travel Publications is the publisher of Group Travel Organiser magazine, the UK's first and leading publication exclusively addressing the needs of group travel organisers. GTO was first published in 1988 and over the past 27 years has brought a wealth of news, information and ideas for group trips to organisers all over Great Britain. The magazine is published ten times a year and mailed to 10,000 individuals, along with numerous supplements on particular countries, regions and subjects of interest to groups.