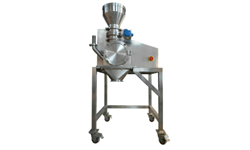 Saintyco New Hammer Mill
Ruian,Zhejiang (PRWEB) March 08, 2017
SaintyCo, a global leader in manufacturing pharmaceutical equipment, today announced the latest in its hammer mill equipment, CFJ Series. As part of SaintyCo's effort to produce high-capacity and innovative technology in the pharmaceutical industry, the company has introduced three types of CFJ Series hammer mills.
The CFJ Series is the second equipment in SaintyCo hammer mill series after introducing the GJ series. This is a CE and cGMP compliant pharmaceutical equipment made from the FDA approved materials.
"Our innovative CFJ Series hammer mills have a compact and robust design with precisely positioned blades for accuracy and consistency of the final product," said Mr. Tony Zeng, SaintyCo Export Manager. "This will ensure all our customers remain competitive by integrating innovation and state-of-the-art hammer mills in their pharmaceutical production system."
Features of SaintyCo CFJ Series Hammer Mill
-A stainless steel structure:
The machine is rustproof, hence guarantees high levels of hygiene. Hygiene is a critical cGMP requirement in the pharmaceutical and food processing industry.
-Strong and accurately positioned crushing knives:
Crushing knives can crush and grind both granules and fibrous materials. These blades/crushing knives are firmly secured on the rotor.The milling chamber is fully enclosed to ensure the safety of machine users and advanced dust handling property.
-High speed milling machine
SaintyCo CFJ Series hammer mills have an output of 200 to 1,000 kg/hour. Minimum and maximum production capacity depends on the type of CFJ milling machine.
They have a fast rotating crushing knives/blades that can reach a speed of 2,500 to 60,000 rpm. These hammer mills are designed for R&D, small scale and high scale production.
-Energy efficient motors:
Electric motors are CE compliant, with efficient power consumption ranging between 4 to 7.5 kW.
This CFJ Series hammer mill machine guarantees a stabilized processing capacity. Its unique design allows for easy and fast rotor and screen dismantling.
About SaintyCo
SaintyCo researches, designs and manufactures foodstuff and cosmetic machines. These include tamping pin and dosator capsule filling machines.
For over 15 years, SaintyCo has expanded to over eight factories that deal in capsule filling, tablet capsule counting line and film coating machines, amongst others. All machines and equipment are CE and cGMP compliant.
Media Contact:
Export Manager: Tony Zeng
Email: sainty(at)saintyco(dot)com
Phone: +86-577-66612826