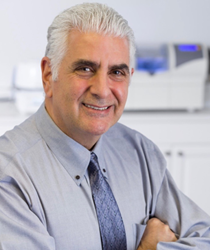 Scotch Plains, NJ (PRWEB) March 08, 2017
Dr. Tony Caramico can't wait for his patient's next visit so they can see first-hand all the new and exciting changes he has made to the office; all with his patients in mind. In keeping his commitment to providing the very best care in a more streamlined manner, a number of cosmetic changes continue to be made to the office, as well as an investment in several innovative technologies that are going to change the way dentistry is thought of. They have for him.
Advancements in technology have changed, and in most cases improved the way people live their lives. From how products and services are purchased, communication and learning, technological advancements have improved and enhanced our experiences. The world of dentistry is no different. Technological advancements in the field of dentistry have enhanced and introduced new capabilities and created efficiencies that will not only ensure an even higher level of care, but will improve the patient experience exponentially. At Midland Park Family Dentistry, they recognize that staying at the forefront of these advancements is essential to delivering against their steadfast commitment to consistently deliver the highest level of care in a manner that meets the changing and diverse needs of their patients.
As part of his commitment to his patients and their oral health, Dr. Tony has introduced three (among many) distinct technologies into his office that have, and will continue to change the way that patients and dentists alike experience dentistry. They include: Sirona ORTHOPHOS SL 3D, CEREC, and Solea All Tissue Dental Laser.
Sirona ORTHOPHOS SL 3D Panorex + Cone Beam
Most people dread the thought of getting oral x-rays because, let's be honest, it's just uncomfortable. Well, not anymore. Sirona ORTHOPHOS SL 3D Panorex + Cone Beam is a three dimensional, open- environment scanning system that generates crystal clear high-definition images in seconds, minus the discomfort. The patient simply sits in front of the scanner and smiles; the Panorex and Beam does the rest. In addition to saving time and eliminating discomfort, the machine's ability to generate high-definition images ensures a more accurate diagnosis, which leads to a better, more tailored solution. The amount of radiation exposure from a typical cone beam/panoramic image is the equivalent of a human living on planet Earth for eight days.
Most people, like Dr. Tony, need to know just how it works, here's a bit more detail. Using a rotating imaging device that moves around the patient's head, the scanner records between 150 and 600 different imaging views in under a minute. Then, a powerful computer processes the information and creates a virtual model of the area. When it's done, the model appears as a three-dimensional image on the computer screen, which can be rotated in any direction, giving the dentist a view from virtually every angle. This information is crucial in not only helping to discover disease and trauma but invaluable to creating more precise, and often more conservative treatment plans for patients. It gives patients the ability to truly see what's going on and what can be done to better discuss all options with the patient. It also gives Dr. Tony the ability to consult with his team of specialists to give the most optimal treatment outcomes.
Chairside Economical Restoration of Esthetic Ceramics (CEREC)
This amazing technology, which uses 3D digital photography and CAD/CAM technology, has changed the way patients and dentists experience dentistry. For instance, in creating a crown, it typically involves messy impressions, temporary plastic crowns, and multiple visits over a two to three week period. With CEREC, all of that disappears. Using a CEREC camera, a picture is taken of the affected tooth and the surrounding teeth and gums and uploaded to a computer where it creates a 3D model of your restoration. Then, with the marvels of 3D printing, the crown is milled right there in the office before your eyes. From camera to computer to printer, within minutes, the perfectly matched and durable new crown is permanently inserted and the tooth is complete so life can be enjoyed not having to worry about temp crowns coming off or causing discomfort.
Solea All Tissue Dental Laser
For people okay with never hearing the sound of the dental drill again, then the Solea is for them. Solea, a powerful dental laser, can replace the need to use a dental drill in most procedures. Causing virtually no pain, vibration, or noise, nearly every patient opts out of getting numb, because they just don't need it. Imagine going right out to lunch or back to work after a dental visit free of that numb sensation following the appointment. Solea is the first CO2 dental laser system cleared by the FDA for hard and soft tissue procedures. It offers a unique wavelength guided by sophisticated computers to deliver virtually painless dental procedures for both teeth and gums from simple cavities to complex surgeries. The experience is so different that patients will find it hard to believe they were just at a dental appointment. Solea is truly changing what it means to go to the dentist.
Today, dental visits are no longer limited to old and conventional procedures. The new advancements in dentistry provide modern solutions to the traditional dental problems. Dentistry has come a long way due to the breakthroughs in science and technology. Dr. Anthony Caramico and his team at Midland Park Family Dentistry are excited to share with you their knowledge and excitement that all of these dental breakthroughs can mean to visitors and their families.
Dr. Tony has also won many prestigious awards including:
-Bergen Magazine 2017 Top Doc Award
-New Jersey 2017 Top Dentist
-NJ Monthly Top Dentist 2017
To learn more about Dr. Caramico and his practice, please follow the link below to view his full Online profile: http://njtopdocs.com/nj-dentists/dr-anthony-caramico/
About Us
NJ Top Docs is a comprehensive information resource of Top Doctors, Dentists and Hospitals. We are profiling over 900 Healthcare Providers and have made it convenient for you to find them.
NJ Top Docs allows patients to "meet" these providers online before making their appointment.
For more information, please visit http://www.NJTopDocs.com.
YOU CAN ALSO FOLLOW US ON FACEBOOK – TWITTER – YOUTUBE