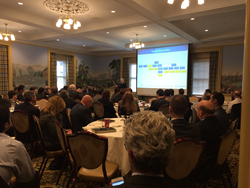 A good mobile strategy should be leading your customers and thinking about what mobile is evolving to, not simply where it is now. —keynote speaker Joe Kennedy, Partner, PwC
New York, NY (PRWEB) March 08, 2017
The Wall Street Technology Association (WSTA®), a not-for-profit organization that provides financial IT professionals a forum to learn from and connect with each other, will host a seminar on "Mobile Strategies for Today and Tomorrow" on March 16, 2017 in New York City for Financial IT Professionals. Speakers at this event currently include Keynote: Joseph Kennedy, Partner, PwC, Premier Speaking Sponsor: IBM, Luncheon Speaking Sponsor: Box, and Speaking Sponsors: Appway, Red Hat, and Solstice. For more information, please visit: http://www.wsta.org/events/event/mobile-strategies-for-today-and-tomorrow/
"Building capabilities for what your clients are asking for is not a sign of a good mobile strategy, it shows that you didn't have one in the past, and you are behind. A good mobile strategy should be leading your customers and thinking about what mobile is evolving to, not simply where it is now," says keynote speaker Joe Kennedy, Partner, PwC.
Seminar Overview
Mobile strategies aren't just about exploring the latest innovations with device technology to see if that translates into value for you and your customer. Firms need to make sure strategies include channel integration across platforms supporting mobile as well as more mature access channels. In this seminar, firms will share their thoughts and experiences with the most effective drivers behind forming effective mobile strategies while addressing the ongoing demands for secure data and strong authentication.
About the Wall Street Technology Association (WSTA)
For 50 years, the Wall Street Technology Association (http://www.wsta.org) has provided financial industry technology professionals, vendors, service providers, and consultants forums to learn from and connect with each other. The WSTA facilitates educational seminars and networking events where members meet and exchange ideas and best practices that assist them in effectively capitalizing on technology advances and dealing with financial industry business challenges. Founded in 1967, the WSTA is a not-for-profit association with a long history of evolving to meet the needs of its members.
Financial Firm Members
WSTA financial firm members are employed at banks, brokerages, hedge funds, insurance companies and other financial firms. The WSTA currently has about 2,400 members from over 50 different firms; 81% of the members hold senior titles such as CIOs, CTOs, Vice President, Director and Manager. The remaining 19% hold other titles such as analysts, engineers, architects, etc. The WSTA also reaches over 3,200 prospective financial firm technology professionals with information about educational and networking opportunities.
Affiliates and Sponsors
Affiliates and sponsors are an integral component of the WSTA. As a not-for-profit organization, they contribute significantly by providing the resources needed to run the educational and networking programs for WSTA financial firm members. These programs strengthen the bond between members and companies that serve the technology needs of the financial community.