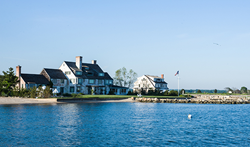 Old Saybrook, Conn. (PRWEB) March 07, 2017
William Pitt Sotheby's International Realty today announced that the company has listed the Katharine Hepburn estate. The property of the legendary actress returns to the market as two separate offerings. Essex agent Colette Harron has both listings, which are located in Old Saybrook, Conn.
The first property includes the historic Katharine Hepburn home of 8,400 square feet on three levels, set on 1.5 acres overlooking a private pond and golf course, including 220 feet of Long Island Sound frontage with a private dock. The six-bedroom home was built in 1939 and totally renovated in 2005. It was previously listed in 2014 at $14,800,000, and is returning now with a new asking price of $11,800,000. More information on this property is available online here.
The second listing is a three-bedroom beach house that was built on a separate adjacent parcel in 2015, comprising over 3,800 square feet of living space with four large decks overlooking the Long Island Sound, Connecticut River, a pond and golf course. Offering 200 feet of Sound frontage and a private beach with approval rights for a private dock, the property also has a two-car garage, large covered golf cart portico and 500-square-foot covered first-floor terrace adjacent to the beach, all on 1.3 acres. The property borders more than three acres of open space that was donated to a land trust by the estate of Katharine Hepburn. The beach house was previously offered in 2015 at $6,880,000, and is returning with a new asking price of $5,880,000. More information on this property is available online here.
Colette Harron will lead the sales team and accommodate private showings of the estate to qualified buyers. "The historic Katharine Hepburn home remains the quintessential family estate, featuring an extraordinary renovation that maintains its legacy," she said. "And the property's enviable location in beautiful Fenwick, with its open spaces and lovely waterfront, makes it a paradise of peace and tranquility."
Owner Frank Sciame of Sciame Construction notes that the property is two hours by car from Manhattan and Boston, and can be reached within 35 minutes by seaplane or helicopter from Manhattan, and 45 minutes by boat from East Hampton or Sag Harbor.
Sciame, in partnership with another Fenwick waterfront property owner, recently completed the purchase of the nearby historic Old Saybrook Breakwater Lighthouse, which is featured on many Connecticut license plates. Yacht-design architects Persak & Wurmfeld have been retained to perform renovations and updates, with the goal of enhancing and preserving the structure for the enjoyment of the grandchildren. "I've decided to spend more time with my family using our boat, and the lighthouse is the perfect way to keep a connection to Fenwick after we've sold the Hepburn estate," Sciame said. "Accordingly, the homes have gone from 'priced to sit' to 'priced to sell.'"
About the Katharine Hepburn Estate
Katharine Hepburn and her family constructed the Hepburn home in 1939, and the actress used it as a summer retreat for the next 65 years. With 8,400 square feet on three floors, the house includes six bedrooms, seven and a half baths, and seven fireplaces. Living spaces include living and dining rooms and a screened porch that overlook the Sound and a pond, a kitchen with AGA stove and Sub-Zero refrigerator, den, chart room, potting room, pantry and laundry room. The grounds include a sandy beach and dock on the Sound for boating access to the Hamptons, less than an hour away. Visitors can land seaplanes in front of the house, as aviator Howard Hughes did in the 1930s and 1940s. A two-car garage completes the offering.
Frank Sciame, who has handled the restoration of New York City landmarks such as the Pierpont Morgan Library and Museum, Central Synagogue and the Guggenheim Museum, oversaw the renovation of the Hepburn Estate in 2005. The project included raising the three-story long brick structure five feet, which adequately protected it from the Sound during Hurricanes Irene and Sandy, installing new systems, expanding the home to create light-filled rooms while preserving the original historical integrity, and incorporating oversized windows, coffered ceilings and built-in cabinetry.
The Hepburn estate is located in the Old Saybrook, Conn., borough of Fenwick, a community of 83 homes established in the 1600s situated where the Long Island Sound meets the Connecticut River. A nine-hole links-style golf course and tennis courts are available to residents of the community. Fenwick also offers swimming, sailing and golf lessons for children.
About William Pitt and Julia B. Fee Sotheby's International Realty
Founded in 1949, William Pitt and Julia B. Fee Sotheby's International Realty manages a $3.9-billion portfolio with more than 1,000 sales associates in 26 brokerages spanning Connecticut, Massachusetts, and Westchester County, New York. William Pitt and Julia B. Fee Sotheby's International Realty is the largest Sotheby's International Realty(R) affiliate globally and the 31st-largest real estate company by sales volume in the United States. A full-service real estate firm headquartered in Stamford, Connecticut, William Pitt and Julia B. Fee Sotheby's International Realty provides ancillary services including commercial services through its affiliation with Building and Land Technology, a second-generation development company based in Stamford, Connecticut; William Pitt Insurance Services; and an award-winning global relocation division. For more information, visit the website at williampitt.com.
Sotheby's International Realty's worldwide network includes approximately 20,000 sales associates located in approximately 850 offices throughout 65 countries and territories.