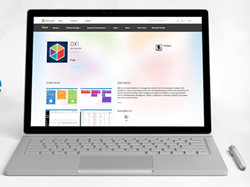 We're pleased to see DX1 taking advantage of Microsoft Azure's unique platform services as it expands its offerings for the powersports industry," said Nicole Herskowitz, senior director of product marketing, Azure, Microsoft Corp.
(PRWEB) March 07, 2017
DX1 introduces a new cloud-based desktop application for Windows 10, giving powersports dealers an improved way to access the industry's only complete dealership management platform. DX1 pushes the envelope in dealership operations and efficiency, looking to help dealerships take advantage of the latest technology. The DX1 platform is built on Microsoft Azure and offers an optimized dealership management solution with a state-of- the-art technology infrastructure.
The DX1 dealership management platform is a unique solution for powersports dealers – it offers a DMS, responsive website, lead manager and online marketing tools built on a single technology platform. DX1 selected the Microsoft Azure cloud platform because it affords the ability to scale the product on demand and grow rapidly. Azure offers a powerful Platform-as-a- Service (PaaS) environment, simplifying the DX1 infrastructure and enabling the DX1 team to shift away from managing virtual machines. DX1 utilizes four separate datacenters across the United States, providing redundancy and optimal performance for its customers. DX1 was designed for Azure from scratch and utilizes a wide range of Azure services, including Azure SQL Database, Web Apps, Cloud Services, WebJobs, Event Hub and Data Factory. Azure's reliable infrastructure coupled with the benefit of purchasing less hardware allows DX1 to focus on product innovation and minimize operating expenses.
PowerSports Business has recognized the new DX1 app for Windows 10 as a 2017 Nifty 50 award-winning product for its innovation and value it will bring to dealerships. Dealers will experience improved speed and performance as well as enhancements only available through the new DX1 app. The app is an addition to the browser-based version of the DX1 platform and will continue to rely on the existing infrastructure built on Azure. The flexibility and scalability of Azure enables the DX1 team to quickly add resources when necessary to support the rapid growth of the platform, ensuring customers continue to experience optimal performance.
"The DX1 app for Windows 10 was easy to install. It's fast and the enhancements are allowing my team to be more productive. We're focused on offering a top-notch customer experience. Unfortunately, we're all at risk of fraudulent charges. With this new technology available through the app, I feel confident that my dealership and my customers are protected," said Graham Marcus, Owner/GM, Maddie's Motor Sports.
The DX1 platform is one of the first in the powersports industry to offer EMV technology to dealerships. Verifone terminals will use the DX1 app for Windows 10 to process EMV-compliant credit card transactions. Verifone's first EMV hardware and software platform customized for a specific industry is an important step for the powersports industry, offering protection for dealerships against the liability for any fraudulent chip card transactions. This is paramount as it becomes increasingly important for dealers to safeguard their transactions and customer data.
"We're pleased to see DX1 taking advantage of Microsoft Azure's unique platform services as it expands its offerings for the powersports industry," said Nicole Herskowitz, senior director of product marketing, Azure, Microsoft Corp. "Companies like DX1 benefit from the flexibility and global scale of Microsoft Azure as they grow and respond to new customer demands."
One of the top features the new DX1 app offers is improved microfiche integration with partners such as ARI Parts Smart, HLSM, Parts Manager Pro, Yamaha and Honda. Dealers can select any part that's accessible in DX1 and see the quantity, bin location and cost in real time!
Label printing through the app is easier and faster than ever – dealers can print more than 100 labels in matter of seconds thanks to preloaded data and PDF presets. The app offers improved printer set-up support for dealers' current hardware, including receipt printers and thermal label printers.
The new app also helps with the installation of supported pole displays. Certain states require dealers to show the customer each item being purchased. The DX1 app utilizes large screens on Verifone terminals to support line item display so that no additional screens are necessary.
The DX1 desktop app provides an optimal user experience by taking advantage of the full screen display since it doesn't need to account for browser frameworks. Browsers such as Chrome, Firefox and Safari contain add-ons that can slow performance and cause challenges for dealers. The DX1 app isn't affected by browser add-ons or versions – it will automatically update to the latest browser version available.
It can also be very time-consuming to install technology platforms on multiple computer stations throughout a dealership. The set-up process for the new DX1 desktop app is much faster because it pre-checks the system for hardware/software requirements before allowing the app to launch. Through the use of Azure, the app checks the computer system to ensure all requirements are met. If they are not, the app alerts the dealer about the missing requirements before the app is enabled. Dealers only need to install the app once, and it will be automatically updated as features and enhancements are added.
With the power and flexibility of Azure, DX1 accelerates speed to market and keeps expenses down, delivering an optimized platform that updates seamlessly for all customers. The new DX1 app ensures that DX1 dealers always have the most up-to- date dealership management software to maximize efficiency and productivity.
The DX1 app for Windows 10 is easy to install, and it's free for all DX1 customers. DX1 customers are encouraged to visit the Microsoft Store and download the app to take advantage of its many benefits.