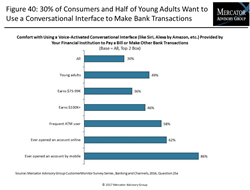 Consumers increasingly prefer using smartphones to interact with financial institutions, manage accounts, make just-in-time transactions at their convenience, but more complex tasks often require more support such as conversational interfaces.
Boston, MA (PRWEB) March 07, 2017
The most recent Insight Summary Report from Mercator Advisory Group's CustomerMonitor Survey Series reveals that 30% of U.S. adults would feel comfortable using a voice-activated conversational interface provided by their bank or credit union (like Siri by Apple on a mobile or laptop device, or Alexa by Amazon accessible by a home WiFi network) to pay a bill or make other banking transactions by speaking to this interface and providing verbal instructions. Young adults and high-income earners are especially interested in using such an interface, according to the survey, which finds that roughly half of them would feel comfortable doing so. The survey findings are based on responses from a sample of 3,000 U.S. adults with banking relationships which were collected in the company's CustomerMonitor Survey Series annual online Banking and Channels survey, conducted in November 2016.
The report, titled Digital Banking: Shift to Smartphones May Require New Support, reveals that consumers are performing more banking activities online and by mobile, especially by smartphone, and increasingly prefer to use smartphones to make bank transactions (1 in 4 respondents indicated they prefer banking via smartphone).
The fastest growth in digital banking is in mobile banking, which consumers use both to communicate with financial institutions (FIs) and to perform banking activities. The percentage of U.S. consumers performing banking activities by smartphone or tablets rose to 65% in 2016, up from 60% in 2015 and 58% in 2014. The percentage using mobile to make bank transactions such as paying bills from an FI's website, transferring funds to another person's account, or depositing checks has risen to 45% of U.S. adults, up from 41% in 2015 and 36% in 2014.
Young adults drive this shift to mobile and continue to be nearly twice as likely as average to prefer smartphones for bank transactions and less likely to prefer using computers for transactions (with little change in tablet preference, which is preferred by few).
The report Digital Banking: Shift to Smartphones May Require New Support highlights trends in use of online banking via computer and mobile platforms, communication methods with financial institutions, use of personal financial management (PFM) tools, alerts, online bill-payment methods and electronic billing, person-to-person (P2P) money transfers, and the demographics of recent account openers. The study evaluates the account opening process online, use of mobile banking app compared to online banking by computer and mobile devices, U.S. consumers' preferences of platform for making bank transactions, and their use and interest in voice-activated conversational interfaces.
"Consumers increasingly prefer using their smartphones to interact with their financial institutions, manage their accounts, make just-in-time transactions at their convenience, but more complex tasks that they would like to perform often require more support such as conversational interfaces," states Karen Augustine, author of the report and Senior Manager, Primary Data Services at Mercator Advisory Group, which includes the CustomerMonitor Survey Series.
Highlights of this Insight Summary Report include:

Shifts in preferred methods of communicating with financial institutions and frequency of use of the various methods
Trends in use of banking activities performed by computer and mobile platforms
Usage breakdown of electronic payments, e-billing, and financial management tools, tax preparation and personal financial management (PFM) software, and changes in use of PFM tools
Usage of person-to-person (P2P) money transfer to another person's account domestically and internationally and willingness to pay for same-day transfer. Use and preference of primary FI or other type of provider for P2P transfers.
Usage of mobile check deposit and expected changes in use
Usage of voice-activated, conversational interfaces and comfort level using them for banking transactions
Authentication process used to access mobile banking app
Demographics of recent account openers, online vs. mobile and other methods, satisfaction with online account opening, and need for additional assistance
The report is 78 pages long and contains 40 exhibits.
Members of Mercator Advisory Group CustomerMonitor Survey Series Service have access to this report as well as the upcoming research for the year ahead, presentations, analyst access and other membership benefits.
Please visit us online at http://www.mercatoradvisorygroup.com.
For more information and media inquiries, please call Mercator Advisory Group's main line: (781) 419-1700 or send email to media(at)mercatoradvisorygroup.com.
For free industry news, opinions, research, company information, and more, visit us at http://www.PaymentsJournal.com.
Follow us on Twitter @ http://twitter.com/MercatorAdvisor.
Mercator Advisory Group is the leading independent research and advisory services firm exclusively focused on the payments and banking industries. We deliver pragmatic and timely research and advice designed to help our clients uncover the most lucrative opportunities to maximize revenue growth and contain costs. Our clients range from the world's largest payment issuers, acquirers, processors, merchants and associations to leading technology providers and investors. Mercator Advisory Group is also the publisher of the online payments and banking news and information portal PaymentsJournal.com.