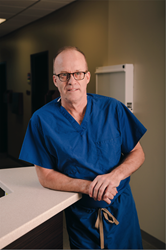 "This is the new and improved version of diagnosing a joint injury," Johnson said. "It takes the guesswork out of the diagnosis and allows doctors to make an accurate diagnosis instantly while we're looking at the injury in real time."
OKLAHOMA CITY, OKLA. (PRWEB) March 07, 2017
Orthopaedic Surgeon Dr. Calvin Johnson is utilizing a new medical device that allows surgeons to diagnose —and in some cases, treat— joint injuries without surgery and in a significantly shorter time frame.
The mi-eye 2 is a small camera built into a 14-gauge needle. It gives doctors a wide, 120-degree angle inside view of a joint that has been injured or damaged.
"This is the new and improved version of diagnosing a joint injury," Johnson said. "It takes the guesswork out of the diagnosis and allows doctors to make an accurate diagnosis instantly while we're looking at the injury in real time."
When a patient has an MRI or X ray taken, it takes time for the results to come back. Then, once their doctor receives the results they must be studied as still images. In addition to a quicker diagnosis, the mi-eye 2 provides a way for some patients to avoid surgery altogether.
"We can treat an injury with biologic injections through the needle of the mi-eye 2." Johnson said. "We can inject that medicine precisely where it needs to be in the joint versus the old methods of using an ultrasound to determine the injection point or going in blind."
The mi-eye 2, which averages a procedure time of less than five minutes, is ideal as an alternative to an MRI for patients who may not be suitable candidates for an MRI, such as those who are claustrophobic, obese, or who have pacemakers, metal implants or suffer from anxiety. Many patients who have undergone the mi-eye 2 procedure report little or no pain.
"There's virtually no reason for a patient to choose a traditional arthroscopy to this procedure today," Johnson said. "I absolutely recommend this to all patients, from athletic injuries to arthritis patients. The mi-eye 2 is a better procedure that allows us to make a better diagnosis and gives the patient a significantly shorter recovery time overall."
###
Founder of OSSO (Oklahoma Sports Science & Orthopedics), Dr. Calvin Johnson provides cutting edge orthopedic care not only for athletes but also for non-athletes. Johnson grew up surrounded by sports which developed his passion for sports medicine. An Oklahoma native, Dr. Johnson has performed more than 20,000 arthroscopic procedures for patients across the nation. He is also involved in the research and minimally invasive treatment of osteoarthritis.