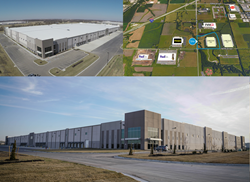 With corporate ties to both Spain and Japan, we could have built this factory anywhere in the world, but HIPOWER SYSTEMS is fully committed to maintaining our Made in the USA approach.
Lenexa, Kansas (PRWEB) March 08, 2017
HIPOWER SYSTEMS, a manufacturer of power generation and power distribution equipment in the U.S. and Canada, today announced it is finalizing the purchase of a $24 million, 515,000 square foot (sq. ft.) industrial building in Olathe, Kan. Located at the corner of 167th Street and Lone Elm Road, the building will become the firm's new corporate headquarters when it opens (tentatively slated for September 2017). All operations—from design, engineering and manufacturing to sales and support—will be housed within the new facility, including production of the firm's upcoming, newly designed and engineered, Tier 4 Final-compliant portable generators.
"With corporate ties to both Spain (Himoinsa, S.L.) and Japan (YANMAR Co. Ltd), we could have built this factory anywhere in the world, but HIPOWER SYSTEMS is fully committed to maintaining our Made in the USA approach," said HIPOWER SYSTEMS President Rafael Acosta. "Our U.S. expansion provides capacity for production of our new Tier 4 Final portable line and high-capacity, MTU Detroit Diesel and EPA-certified Waukesha natural gas-powered gensets. We will also be able to manufacture generators for Western Hemisphere countries, such as those in Mexico and South America, that require 60 Hz power—all while helping grow America's economic base and workforce."
In the first year alone, HIPOWER SYSTEMS will make a multi-million-dollar investment in building improvements, which is nearly five times the size of its current facility. It will also purchase and install at least $11 million in high-tech machinery to support its specialized engineering and manufacturing processes. After beginning operations with approximately 40 workers, the new plant will accommodate anticipated workforce growth of up to 75 additional employees over the next few years.
"We have always envisioned constructing a fully independent 'super factory' in North America, where engineering and manufacturing processes would utilize the most high-tech equipment available," said Acosta. "Thanks to the support of the Olathe City Council and the state of Kansas, we are able to construct one of the world's most innovation-driven manufacturing plants in the same state—and city—where we made our first U.S. generator sale."
About HIPOWER SYSTEMS
HIPOWER SYSTEMS (a division of Himoinsa, S.L.; a member of the YANMAR Co. Ltd group of companies) is the principal supplier of power distribution and prime, standalone power-generation equipment and packages to the U.S. and Canadian markets, serving the Residential, Commercial and Industrial sectors including the Agriculture, Telecommunications, Health Care and Oil & Gas Industries. The company builds and customizes backup generators, diesel generators, natural gas generators and alternative bi-fuel generator sets from 8kW to 3MW with a complete range of accessories, including automatic transfer switches, paralleling switchgear, UL tanks, enclosures and power distribution equipment.
In North America and throughout the globe, our rental packages and power distribution equipment are recognized as the best power solution source for emergency and disaster relief. For more information, visit http://www.hipowersystems.com.