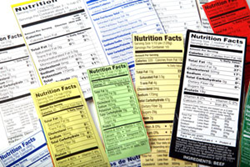 We believe our high-quality custom labels are the right choice for brands that want to emphasize their healthy facts during National Nutrition Month.
Denver, CO. (PRWEB) March 08, 2017
Become a Knowledge Source for Healthy Choices
National Nutrition Month, celebrated in March, presents an opportunity for food brands. Companies that sell healthy items can use this month to promote the role their items play in a balanced diet. From offering recipes to describing the roles of different ingredients, organizations can stand up for their customers' health and raise the profile of their own offerings.
Taking full advantage of this month means food producers should do more than just make a public statement or take to social media. To make the connection between nutrition and their products, they should expand the tie-in branding to their own labels and packaging. If they make this decision, consumers browsing stores will see the connection between those items and National Nutrition Month. This connection, forged via custom food labels, is where Lightning Labels comes in.
Labels to Promote Healthy Eating
When there's a need to change product labeling strategies, companies can turn to Lightning Labels to receive a bold new look. Customized food labels promote a healthy diet and tie in with National Nutrition Month can expand a message beyond a company's ads and web presence, by putting it right on store shelves.
There are also opportunities to go beyond a simple logo or piece of marketing copy to draw attention to National Nutrition Month. Organizations could use the month as inspiration to change their ingredient labeling strategies, debuting revised and revamped nutritional food labels. With the national standards for these labels currently undergoing a revision, companies could preemptively adopt the new style, using this required transition as a marketing opportunity.
Brands can add labels to packages to create a practical connection with customers. Shoppers who don't have to wonder how to use a particular product in their cooking may be more likely to drop it into their carts. Between easy-to-understand nutrition information and healthy, useful recipes, brands can build bonds of trust with their customers through increased transparency. When a company provides more facts right on its labels, it may distinguish itself from competitors that seem more evasive.
The Need for Labeling
Using packaging to tie into an event doesn't make sense as a business strategy unless the product labels themselves are well made. This is where Lightning Labels makes its mark among food producers. With its all-digital processes, Lightning Labels offers attractive labels on a variety of materials, with quick turnaround times and impeccable customer service.
"We believe our high-quality custom labels are the right choice for brands that want to emphasize their healthy facts during National Nutrition Month. I look forward to seeing all the creative and dynamic designs these companies employ," said Lightning Labels Director of Business Development AnneMarie Campbell.
Companies eager to get involved with National Nutrition Month aren't too late to get involved a roll out new labels before March ends. Lightning Labels' use of domestic facilities instead of outsourcing and its commitment to all-digital printing processes enable it to offer fast order processing and shipping, as well as low minimum order sizes. Food producers of all types can embrace their healthy side this month.
About Lightning Labels:
Lightning Labels uses state-of-the-art printing technology to provide affordable, full-color custom labels and custom stickers of all shapes and sizes. From small orders for individuals to the bulk needs of big businesses, Lightning Labels is equipped to handle and fulfill custom label and sticker projects of all types. Best of all, like the name implies, Lightning Labels provides a quick turnaround for every customer's labeling needs. Uses for Lightning Labels' custom product labels and custom stickers include food packaging and organic food labels, wine and beverage labels, bath and body labels, and nutraceutical products, such as vitamins, essentials oils, and herbal remedies, as well as event stickers, adhesive window stickers and more. Lightning Labels strongly supports the development of environmentally friendly printing materials and carries EarthFirst PLA, a new kind of green label material made from corn instead of petroleum. While operating as a high-tech printer, Lightning Labels prides itself on its personalized customer service. Lightning Labels provides one stop shopping for all of your custom label needs. For more information and to place orders online, visit LightningLabels.com. For the latest in packaging news and labeling promotional offers, find Lightning Labels on Twitter (@LightningLabels), Facebook, Pinterest, Google+ and LinkedIn.