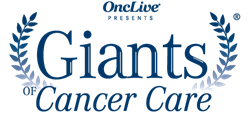 Cranbury, NJ (PRWEB) March 08, 2017
OncLive® announces the last chance to nominate leading oncologists for the 5th Annual Giants of Cancer Care® Awards, which recognize top oncologists and researchers who have made remarkable achievements in oncology research and clinical practice. The deadline to submit nominations is March 20, 2017.
International and domestic nominations are accepted. Self-nominations are welcome. The Advisory Board will then choose the semi-finalists, and from this narrowed field, the Selection Committee will determine the newest honorees. On June 1, the 2017 Giants of Cancer Care® class will be announced during a gala reception at the Chicago History Museum.
This award has been bestowed on many of the highest-regarded oncologists and cancer researchers in the field. The 2016 class included such distinguished honorees as Frances A. Shepherd, MD, of Princess Margaret Hospital in Toronto; James F. Holland, MD, of the Icahn School of Medicine at Mount Sinai in New York; and Larry Norton, MD; Sir Murray F. Brennan, MD; and Robert J. Motzer, MD, all from Memorial Sloan Kettering Cancer Center in New York.
For more information and to submit a nomination, visit http://www.giantsofcancercare.com/nominate
About OncLive®
OncLive® is a digital platform that offers practicing oncology professionals information to help them provide the best patient care. OncLive.com is the official website for Michael J. Hennessy Associates Inc.'s Oncology Specialty Group, which publishes OncologyLive®, Oncology Nursing News®, Oncology Business Management™, and more. Michael J. Hennessy Associates Inc. is a full-service health care communications company offering education, research, medical media, curetoday.com, and CURE® magazine, the largest consumer publication focused entirely on cancer. CURE® combines science and humanity to make cancer understandable and reaches patients, cancer centers and advocacy groups. For more information, please visit: http://www.onclive.com/