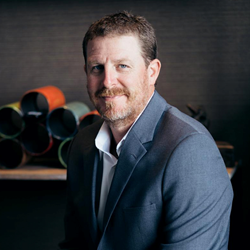 Joey is a proven leader and has guided RJ Young through the realignment of our IT department.
Nashville, Tennessee (PRWEB) March 08, 2017
RJ Young (RJY) is pleased to announce the promotion of Joey Lush to vice president of information technology. He previously served as information technology director for the Nashville, Tennessee based company, which is the third largest independent office equipment dealer in the Southeast. Joey is responsible for leading and overseeing information technology infrastructures and strategies while governing company information systems, network and host security, telecommunications systems and desktop support services.
Joey is a proven leader and has guided RJ Young through the realignment of our IT department," Chip Crunk, President & CEO said. "Under Joey's direction, the organization has and continues to benefit in terms of innovated solutions that are not only cost-efficient but also align with the company's long-term vision. His leadership will be critical for the stability and growth of our company's technology."
IT Services was previously split into two teams under the sales and technology departments. Prior, the sales arm of RJY lead the external team, which serviced customer accounts. Concurrently, the technology department provided a host of internal companywide technological support channels. Now both external and internal teams will be run by management teams under Lush's leadership. "I look forward to expanding strategic growth opportunities that will continue to enhance our reach, capabilities and efficiencies more than ever before," Lush said of the company's technology restructure.
Joey attended Middle Tennessee State University.
About RJ Young
RJ Young is one of the largest independent office equipment dealers in the country, specializing in document management solutions, managed print services, IT services and office imaging. Headquartered in Nashville, Tennessee, RJ Young has been in business for 61 years and has over 500 employees in over 20 sales and service locations across six states. Under the corporate tagline "Your productivity is our mission," RJ Young helps modern professionals become more successful in their businesses with solutions to securely manage paper and digital information, maintain vital information technology systems and empower businesses with leading printing technologies. You can visit RJ Young online at: http://www.rjyoung.com.