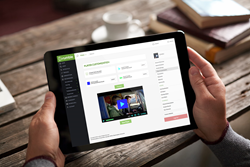 This is a no brainer for publishers.
Toronto (PRWEB) March 07, 2017
Top video platform Rumble.com today launched "Get your own video player" to its highly popular interface and customer base. This marks the first time that a video company will offer the entire spectrum of video on an open video platform; content, choice of ads, and technology. The new offering enables publishers to achieve complete control with a brand safe video player, while also choosing to use either their own ad stack or Rumble's.
"This is a no brainer for publishers," said Chris Pavlovski, CEO of Rumble.com. "We believe most publishers will have an appetite to use Rumble's video content -- which is generated by our community of creators -- while also taking advantage of this favourable pricing structure and technology for their own content."
The player affords publishers bandwidth priced at 1 cent per GB, with no storage or encoding fees. Customers who've adopted the Custom Video Player include the likes of the Clark Howard Show, America's Funniest Home Videos, and ViralHog.
Over the next month, Rumble will be rolling out automation features that will allow publishers to customise the video player directly from within the dashboard. For publishers interested in the new product offering, they can review the features here: Your Custom Video Player
Rumble currently boasts over 40,000 creators; more than 30,000 websites have embedded Rumble's player to date. For more information, visit Rumble
About Rumble
Rumble.com is an open video platform that sits on a rights management technology. This rights management technology is a machine learning sDRM algorithm called Rumble Rank, which automatically scales verification, clearance, discovery and licensing for social video.