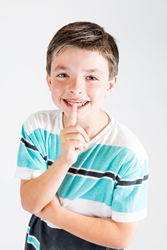 Early assessment of your child's orthodontic needs by age seven is critical for their overall dental health.
Richland, Washington (PRWEB) March 20, 2017
I am often asked by concerned parents, what the best age is to start braces. I typically respond by telling them that it depends on the child and their individual orthodontic needs. Appropriate time of treatment is critical and there is no one age that works for each child. While many children can wait to start braces until all of their permanent teeth have erupted (approximately age 11 to 12), many others have needs that are best addressed at an early age. For this reason, the American Association of Orthodontics (AAO) recommends that children be seen by an orthodontist by age 7, to determine the appropriate time for treatment. For certain individuals, treatment at an young age (before all the permanent teeth have come in) is very important. Treatment in your children is called "phase 1 (one)" treatment. Failure to treat particular problems early can result in undesirable consequences, including:

Increased risk of tooth trauma
Destructive tooth wear
Dental impaction (teeth stuck in bone, unable to come in by themselves)
Permanent gum recession
Development of jaw/facial irregularities
Need to extract permanent teeth later
Need to perform jaw surgery later
Psychosocial problems
If such problems are not caught early, their correction can require lengthy, complex and expensive orthodontic and dental treatments later on.
Let me clarify what "phase 1" treatment is and what it isn't. Phase 1 treatment is typically for functional and developmental purposes. The primary goal at this point is not esthetics. However, if a child has serious psychosocial concerns and is being teased, etc., then we believe phase 1 for cosmetic purposes is also justified. The goal of phase 1 treatment then, is to correct certain dental and skeletal growth abnormalities that are best addressed at a young age. When done properly, early treatment can reduce the duration and cost of comprehensive (full) braces, once all the permanent teeth have erupted.
If we determine that specific orthodontic problems don't affect your child, we prefer to initiate treatment once he or she is nearing puberty. This is a time in your child's development when skeletal growth is at it's greatest and we can best modify jaw growth, fixing bigger bite problems. Research has shown that in these situations, waiting to start treatment until nearly all of the permanent teeth have erupted, results in the most efficient and effective overall orthodontic treatment.
In summary, at Parkinson+Butler Orthodontics we believe that an early assessment of your child's orthodontic needs by age seven is critical for their overall dental health. This complimentary exam allows us to evaluate your child's current orthodontic needs and make a plan to successfully meet those needs with the right treatment, done at the right time. An early orthodontic assessment with Dr. Butler or me, will give you the peace of mind that important dental matters are not being overlooked. We also treat many adults with braces and Invisalign, so we can answer questions about your smile as well. We look forward to meeting you and helping you and your family on the road to healthy, beautiful smiles.