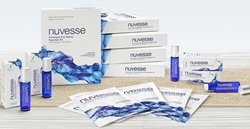 Look Forward
SAN FRANCISCO, CA (PRWEB) March 09, 2017
The skin care company has announced a new name to better reflect its presence in the consumer and aesthetic medical markets to Nuvesse Skin Therapies, Inc. The transition reflects an expansion from their origins in science and wound-healing technology beginning in 2004, when the company originally developed the proprietary wound-healing technology HealSmart™ under the company name PolyRemedy, Inc.
Except for the name change, customers and partners will not see any direct impact on the current product line(s) formulated with patented Cellulation™ Technology. It is anticipated new product lines and extensions will be added to the product mix to bolster the company's offerings, in the near future, to enhance future direction and focus. The company's new direction, catalyzed by pH Pharma, Inc.'s majority ownership investment in Nuvesse, as of September 2016, is focused on developing innovative healthcare products for unmet clinical and consumer needs. "pH Pharma's investment in Nuvesse is synergistic with our vision of investing in innovative technologies that provide best-in-class products in focused areas, including dermatology applications. San Francisco, CA and Seoul, Korea traditionally have been leaders in the consumer skin care fields and we intend to build upon that reputation and success." stated Dr. Hoyoung Huh, Chairman & CEO of pH Pharma and Nuvesse Skin Therapies, Inc.
In support of the name change, Nuvesse has also updated their brand identity, which is launching at the same time as their national advertising campaign.
About Nuvesse:
Nuvesse Skin Therapies, Inc. manufactures and distributes their line of skin care products – serum-infused biocellulose masks and serum rollers – that nourish skin through quality ingredients with two brands, NuvesseMD™ Clinical Skin Therapy sold into the medical aesthetic channel and the consumer brand Nuvesse. Originating in wound healing science, Nuvesse's patented Cellulation™ Technology helps stimulate the skin's natural healing process by delivering more key ingredients and essential vitamins deeper into the skin.
All of the Nuvesse products can be easily incorporated into a daily skin care regimen to give skin the boost it needs to look rejuvenated and healthier.
About pH Pharma:
pH Pharma is a global healthcare company focused on innovative science and technologies to develop products with high unmet clinical and market needs. Its leadership team has been involved in the growth of many impactful companies in the healthcare and consumer arenas, including 7 IPOs, 5 M&As and over 20 value-creating partnerships across the US, Europe and Asia. Its major geographical bases are Silicon Valley for the US market and Seoul for the Asian territories, with support from leading international investors and funds.
Company Contacts:
pH Pharma, Inc.
Jenny Kim
Jenny.kim(at)ph-pharma.com
Nuvesse Skin Therapies, Inc.
Lauren Adams
ladams(at)nuvesse.com
####