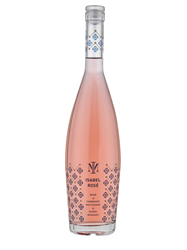 Napa, Calif. (PRWEB) March 07, 2017
Michael Mondavi Family Estate (MMFE), a collection of family-owned wines based in Napa, launches a new wine in the Isabel Mondavi range: 2016 Isabel Rosé of Cabernet Sauvignon (SRP $20). Released under the Isabel Mondavi brand, the wine is a family affair with vintner Dina Mondavi, Michael and Isabel Mondavi's daughter, spearheading the new offering.
"We wanted to create a wine that captured my mom's style: casual, elegant and sophisticated," says Dina Mondavi. "A wine that was remarkably food-friendly and versatile, which is why we focused on a style with bright acidity and fresh fruit flavors."
With the rosé trend continuing to gain momentum in the U.S., it is an opportune moment for MMFE to release an updated wine style of rosé into this growing market. The premium price-point places Isabel Rosé in a growing range of higher-quality rosé offerings.
Although produced in a Provencal style, Isabel Rosé is still true to both its Napa roots as a Cabernet Sauvignon focused wine while also paying homage to the Mondavi family's Italian heritage with the additions of Barbera and a small percentage of Muscat Canelli.
"We wanted to keep Cabernet Sauvignon as the primary varietal in this wine because of the legacy and heritage it represents for our family, and the Barbera is a nod to the Italian heritage of my great grandparents who emigrated to the U.S. from the Marche region of central Italy."
The screen-printed label pays further tribute to the family heritage, reflecting the floral filigree pattern of an heirloom bracelet. "The glass stopper is great because it allows drinkers to easily re-seal the bottle without any risk of cork taint," comments Dina Mondavi. "We love this rosé with a variety of cuisines from New American to spicy Thai, which makes it the perfect bottle to have on hand."
Isabel Rosé will be distributed nationally, represented in the U.S. by Folio Fine Wine Partners, based in Napa, Calif. For a complete list of wines produced by Michael Mondavi Family Estate, please visit michaelmondavifamilyestate.com.
_____________________________________________________________________________________________________
About Michael Mondavi Family Estate – http://www.michaelmondavifamilyestate.com/
For four generations the Mondavi family has crafted world-class wines in the Napa Valley. In 1999, Michael, Isabel, Dina, and Rob Mondavi Jr. purchased the Animo vineyard in Atlas Peak, thereby marking the first chapter of the Michael Mondavi Family Estate. Today, the Estate's portfolio includes wines produced under the Isabel Mondavi, Emblem, Animo and M by Michael Mondavi labels. In keeping with tradition, the family adheres to sustainable and organic vineyard practices, aiming to produce wines with integrity, balance and a sense of place.
About Folio Fine Wine Partners – http://www.foliowine.com
Folio Fine Wine Partners was founded in 2004 by Michael Mondavi and his wife, Isabel, with their children, Dina and Rob Jr. Folio is an importer, fine wine agency and producer of quality wines from the world's premiere and emerging wine regions, providing sales, marketing and public relations services to wine brands from California, Italy, Spain, France, Argentina, and Austria. Wines from California include Animo, Emblem, Hangtime, Isabel Mondavi, M by Michael Mondavi, Oberon and Spellbound. From Italy, are the wines of Attems, Bruno Giacosa, Coppo, Danzante, Donnafugata, Frescobaldi Toscana, Luce della Vite, Masseto, Ornellaia, and Villa Sandi. The Spanish portfolio includes Tinto Pesquera, Condado de Haza, Dehesa La Granja, sEl Vinculo, Fillaboa, Palacios Remondo and Vall Llach. From Argentina are the wines of Ben Marco, Crios, Nosotros and Susana Balbo, with Charles Heidsieck, Domaine Les Cailloux and Andre Brunel (France), and Laurenz V (Austria) completing the portfolio.
# # #