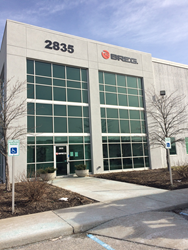 "This new, upgraded warehouse positions our company for future expansion and enables us to keep elevating our 360° customer experience."
Chicago, IL (PRWEB) March 07, 2017
Savills Studley, the leading commercial real estate firm specializing in tenant representation, is pleased to announce its representation of Breg, Inc. in a 108,525-square-foot lease transaction at 2835 Fortune Circle West, Indianapolis, Indiana. Based in Carlsbad, California, Breg provides premium, high-value sports medicine products and services that advance orthopedic patient care.
"After an extensive site search, we were able to identify and negotiate favorable terms at this recently constructed industrial facility," said Savills Studley Corporate Managing Director Jon Azulay. "In close proximity to Indianapolis International Airport and multiple interstate highways, this space corresponds perfectly with Breg's corporate culture and workplace strategy."
Azulay and Bruce McConnell, Savills Studley Senior Managing Director and Midwest Industrial Team lead, oversaw the tenant representation team for this transaction. Fortune Circle West is owned by Exeter Property Group, and was represented by Andy Brown in this transaction.
The transaction at Fortune Circle West was completed in the fourth quarter of 2016 and the client was fully moved into the new facility by February 2017. The new facility will enable Breg to continue servicing eastern U.S. customers quickly and efficiently.
"The transaction executed by Savills Studley at this state-of-the-art facility achieves all our objectives for this project," said Ben Hutson, Breg Vice President of Operations. "This new, upgraded warehouse positions our company for future expansion and enables us to keep elevating our 360° customer experience."
About Savills Studley
Savills Studley is the leading commercial real estate services firm specializing in tenant representation. Founded in 1954, the firm pioneered the conflict-free business model of representing only tenants in their commercial real estate transactions. Today, supported by high quality market research and in-depth analysis, Savills Studley provides strategic real estate solutions to organizations across all industries. The firm's comprehensive commercial real estate platform includes brokerage, project management, capital markets, consulting and corporate services. With 30 offices in the U.S. and Canada, and a heritage of innovation, Savills Studley is well known for tenacious client advocacy and exceptional service.
The firm is part of London-headquartered Savills plc, the premier global real estate service provider with over 30,000 professionals and over 700 locations around the world. Savills plc is listed on the London Stock Exchange (SVS.L).
For more information, please visit http://www.savills-studley.com and follow us on LinkedIn and Twitter @SavillsStudley.