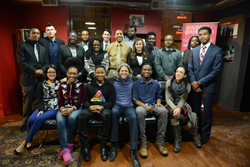 When one of our i.c. stars graduates asked me to present to the group, I jumped at the chance to spend time with the young people that are part of this special program.
Chicago, IL (PRWEB) March 08, 2017
eshots, Inc founder and CEO Craig Steensma hosted a 60-minute presentation and Q&A with members of Chicago-based i.c. stars. Offering a two-year program, i.c. stars provides opportunities for young adults to develop advanced technical and leadership skills. Since 1999, according to icstars.org, the organization "has been identifying, training, and jump-starting technology careers for Chicago-area low-income young adults who, although lacking access to education and employment, demonstrate the extraordinary potential for success in the business world and for impact in their communities." i.c. stars engages with Chicago-area companies in two ways, either through the temporary or full-time hiring of i.c. stars alums or custom Fellowship programs.
"We've been fortunate enough to have hired several of our current full-time staff from i.c. stars. These young professionals come from i.c. stars with a solid technology base, and a strong desire to learn and grow their careers," stated eshots' CEO Craig Steensma. Mr. Steensma continued, "When one of our i.c. stars graduates asked me to present to the group, I jumped at the chance to spend time with the young people that are part of this special program."
The session presented by Mr. Steensma, which was part of i.c. stars "High Tea" series, was focused primarily on leadership and business skills. Mr. Steensma provided a recap of the challenges he faced as the founder of a new technology start-up and stressed how you must focus on customer needs above your original vision, citing eshots' three major pivots since the company's inception in 1998. Another key topic discussed was Mr. Steensma's three keys to leadership, which include: well-defined outcomes, ownership and making all projects time-bound. "Remember, what gets measured gets managed," he went on to say. These things, along with a willingness to make sacrifices, work hard and have the humility to be a servant leader are things that all young entrepreneurs should aspire for when building a business or starting a new career according to Mr. Steensma.
Current eshots employee and i.c. stars alumnus Clyde Gordon stated, "I'm thankful to everyone at i.c. stars who helped mold me into the person I am today. Without them, I would have never thought I could have a developer position at a leading marketing technology company, let alone one with such high standards as eshots. I still use those skills to this day to make great strides not only at eshots but in my community. I couldn't have asked for a better start to my career."
To learn more about i.c. stars please visit http://www.icstars.org.
ABOUT ESHOTS
Founded in 1998 and headquartered in Chicago, IL, eshots is regarded as the leading consumer lead capture, engagement and conversion platform in the experiential marketing industry. We help our enterprise clients improve their experiential marketing ROI through advanced data capture and marketing science-based interpretation. As the only technology-enabled services company in the experiential industry, we employ consultative account specialists to help clients uncover actionable insights within a data-driven framework to make better event planning decisions across the entire life-cycle of the event. Our clients are many of the most respected enterprise brands in the world, including The Coca-Cola Company, FCA, Ford, Mercedes-Benz, Nationwide and State Farm to name a few. Last year, eshots partnered with clients to capture over 3 million consumer leads from over 25,000 event days.
Press Contact
Daniel Maurer
Marketing Manager
eshots, Inc.
312-253-1500
** Photos available upon request