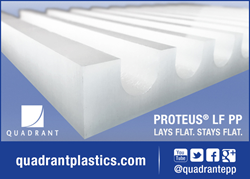 Proteus® LF PP was developed to lay flat and stay flat. —Doug Mahler, Quadrant EPP Product Marketing Manager
Reading, PA (PRWEB) March 14, 2017
Quadrant Engineering Plastic Products (Quadrant EPP) announces the first of its new Stable Machining Grade (SMG) materials. The machinable shapes were developed to improve the performance and productivity of parts made from polyolefin base materials. The first product to hit the market is Proteus® LF PP, a special grade of polypropylene sheet that lays flat and stays flat, even after aggressive machining.
Proteus® LF PP was tested at Quadrant EPP's North American Technical Center and several demanding OE equipment builders. The new material eliminates the need for costly machining and post-machining to keep a part within tolerance.
Typically, parts machined from just one side of a sheet would require additional operations to ensure a flat finish. Once flattened, there was no assurance that the parts would not return to their warped condition. Some fabricators would avoid the post-processing step by ordering sheets that were significantly thicker than necessary—subsequently removing equal amounts from each side of the sheet. While this solved the need for some post-processing steps, it increased raw material costs as well as the time and cost of machining. Proteus® LF PP eliminates these costly post-processing solutions and delivers the solid performance of polypropylene (PP) with the added benefit of far simpler fabrication.
"This first SMG grade will let people who wanted to use PP—but were scared off by the extra processing—use the material in applications where it is well suited," said Doug Mahler, Quadrant EPP Product Marketing Manager. "Proteus® LF PP was developed to lay flat and stay flat," he added.
Current users of PP and HDPE (high density polyethylene) will likely see a lower part cost when switching to Proteus® LF PP, due to faster cycle times, an increased in unmanned machine hours, and elimination of post-processing finishing operations. The material will be available in natural (white/off-white) sheets (48" by 120") ranging in thickness from .250"-1.5". Quadrant EPP plans to release thicker sheets as well as black-colored sheets by the 3rd quarter. Additional SMG materials are slated for release in 2017, each addressing a need that customer research has identified but is not being met by existing machinable shape manufacturers.
About Quadrant Engineering Plastic Products:
For over 70 years, Quadrant Engineering Plastic Products (EPP) has proven that there is simply no substitute for quality and innovation. Quadrant EPP is the global leader in research, development, and manufacture of machinable, high-performance engineering polymer materials. Quadrant EPP materials are specified for use in food processing and packaging, semiconductor manufacturing, aerospace, electronics, chemical processing, life sciences, power generation, and diverse industrial equipment. Their products range from UHMW polyethylene, nylon, and acetal to ultra-high performance polymers that resist temperatures to over 800°F (425°C).
Quadrant EPP's technology is supported by a global team of application development and technical service engineers, who specialize in evaluating designs and fabrication techniques. Quadrant EPP material expertise is available through a worldwide network of branch offices, technical support centers, and authorized dealers. Learn more about Quadrant EPP at http://www.quadrantplastics.com. Connect with Quadrant EPP on Facebook, YouTube, and Twitter.
Registered trademarks of the Quadrant EPP group of companies: Acetron®, CleanStat®, Duraspin®, Duratron®, Erta®, Ertalyte®, Ertalene®, Ertalon®, Extreme Materials®, Fluorosint®, Ketron®, MC®, Monocast®, Nylatron®, Nylasteel®, Polypenco®, Proteus®, Sanalite®, Semitron®, Techtron®, TIVAR® and Vibratuf®.
Press Contact: Doug Mahler, Product Marketing Manager, Quadrant EPP USA, Inc. Reading, PA, Tel: 610 320 6624, Email: douglas.mahler(at)qplas.com