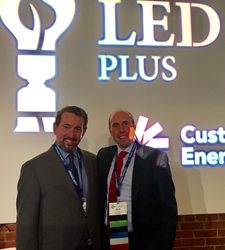 "Congratulations to Xoom and Stream for standing out above your peers." - Jack Doueck, co-Founder, EMC
New York, NY (PRWEB) March 09, 2017
Energy Marketing Conferences, LLC announced today the winners of the "2016 Retail Energy Provider of the Year Award" as well as the "2016 Most Innovative Marketer Award."
The awards were presented at its seventh semi-annual Retail Energy Marketing Conference that took place in Houston, Texas on March 1st 2017.
The conference was sold out with more than 500 attendees. There were 22 sponsors, 45 exhibitors, and no fewer than 50 well-known industry professionals who spoke on three interactive panels, four executive workshops, a networking breakfast, luncheon and reception with live music.
Also, the conference featured the game of "FASTBALL." 24 companies pitched their new products and services to the industry as the audience voted on a winner.
The nominees for the 2016 Most Innovative Marketer Award were:
Brilliant Energy, Green Mountain Energy, Just Energy, RRH Energy, and Stream Energy. The winner was Stream Energy.
The nominees for the 2016 REP of the Year Award were:
Discount Power of Texas, RRH Energy, Source Power and Gas, Spark Energy, and Xoom Energy. The winner was Xoom Energy.
"Although all the nominees had strong cases to win, Stream won the Most Innovative Marketer Award for the absolute number of creative marketing programs they launched and succeeded to roll out," said Jack Doueck, Co-Founder of Advanced Energy Capital, LED Plus and Co-Founder of Energy Marketing Conferences, LLC.
"Any one of the five nominees for the REP of the Year Award could easily have won, but Xoom just stood out with their growth rate, their global and international expansion and their overall business strategy," said Larry Leikin, Co-Founder of EMC and CEO of TrustedTPV.
The awards were sponsored by Hansen Technologies.
LED Plus and TrustedTPV are the founding sponsors of the conference.
Attendees were raving about the Houston conference and registration has already begun in earnest for the next Conference which takes place on September 19th in the beautiful Metropolitan West in midtown New York City. As always, it promises to be another 'can't miss" event.
To register for the Energy Marketing Conference visit https://www.eventbrite.com/e/energy-marketing-conference-new-york-ny-tickets-32326222602
To watch the video from the last September New York City Energy Marketing Conference in NYC click here: https://www.youtube.com/watch?v=fDQTi2lhXek
To watch the video from the last March Houston Energy Marketing Conference, click here: https://www.youtube.com/watch?v=UaPRmzrpM3o