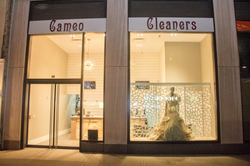 Took a leather purse & dress here that had stains from a spill at a restaurant. They were able to get the stains out of both, I was very pleased. Great customer service as well. Will be back! - Rachel L.
New York, NY (PRWEB) March 08, 2017
Cameo Cleaners, long one of New York's premier couture dry cleaner and garment care services, today shared its guidance on proper care and cleaning of leather and suede garments. Known as the best leather and suede cleaner in NYC, Cameo Cleaners comes to the subject with extensive experience.
"We take pride in hand cleaning your valuable leathers and suedes whenever possible to ensure that the skins don't dry out or lose their luster," said a spokesperson for the company. "We've mastered this technique over decades and now, after thousands of happy customers later - you can be certain that your expensive leathers and suedes are in good hands."
Cameo Cleaner's recommendations for leather and suede care, published on their blog, include details on cleaning leather jackets, cleaning suede jackets as well as leather and suede shoes. "People say, 'I need to clean my leather jacket. How can I do it without damaging the garment?' That's the problem we solve," the spokesperson added. "Leather care is really an art. Good leather and suede is expensive and relatively easy to damage in an incorrect cleaning process. We are trusted by clients with the most high-end leathers and suedes. We know how to do it right."
Cameo Cleaners operates its flagship store at 280 Third Avenue (near 22nd Street). The facility is capable of doing almost any type of cleaning, ranging from full beaded gowns that need to be done completely by hand or a leather piece that needs to be restored. The company has been in business continuously since 1958, working with such world-famous customers as the Metropolitan Opera, Fashion Institute of Technology (FIT) and the Cooper Hewitt Museum. They have offered free pickup and delivery for over 56 years. Other services include care of accessories and handbags, fur glazing, garment restoration, cleaning of delicate interior fabrics such as curtains and Oriental rugs, bed linens and tablecloths.
For more information, visit http://cameocleaners.com.
Cameo Cleaners
280 Third Ave
New York, NY, 10010, USA
+1 (212) 677-3949