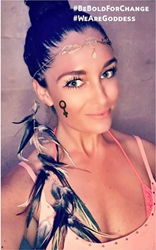 Unleash your #InnerGoddess
Los Angeles, CA (PRWEB) March 07, 2017
On Wednesday, March 8, 2017, thousands of global gatherings will take place consisting of conferences, awards, marches, festivals and more in honor of the invaluable contributions women have made and continue to make in every field and industry.
http://www.reganhillyer.com/international-womens-day
RHI is proud to present this amazing sponsorship opportunity in support of the day dedicated to acknowledging all the ways women are changing their communities. The worldwide initiative is focused and committed to helping women and girls achieve their ambitions. By challenging conscious and unconscious bias and calling for gender-balanced leadership that values women and men's contributions equally, inclusive and flexible cultures are the goal.
You can #BeBoldForChange by spreading the message, "Unleash your #InnerGoddess… #WeAreGoddess," via:

Posting the video on your social media platform.
Allowing us to use your brand in our campaign to help bring awareness.
The annual International Women's Day celebration is paramount to the continued advancement of women everywhere. Fostering the messages of equality and a more gender inclusive world, #BeBoldForChange and #WeAreGoddess are groundbreaking calls to action that seek to bring astronomical change for women.
How can you do your part? Be a leader within your spheres of influence by bringing attention to the gender disparity and challenging those in other positions of power to demand parity across all channels, for men and women. Help women unleash their limitless potential by strategically collaborating with global communities to reach purposeful equality.
For more information, contact Erica Hill at Erica(at)ehillentertainment(dot)com.
"E-Hill Entertainment...We'll take you straight to the top!"