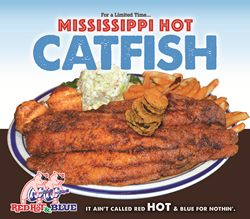 It ain't called Red HOT & Blue for nothin'.
Washington DC (PRWEB) March 07, 2017
True to their Southern roots, all of the Red Hot & Blue Barbecue restaurants across the nation are cooking up their secret and spicy recipe to offer a limited time menu item: Mississippi Hot Catfish Platter. Delicately hand-breaded Delta catfish filets are deep-fried to a crunchy perfection, and coated with the Red Hot & Blue secret blend of spices, hot sauce, and oil. The limited time menu offering includes two Delta catfish filets, speared with crispy, deep-fried pickle chips. Served with fries, creamy cole slaw and garnished with corn muffins. (*Hush puppies may be substituted for corn muffins at some locations.)
Red Hot & Blue's Mississippi Catfish is hot–and full of flavor–but, afterall, it ain't called Red HOT & Blue for nothin'!
Participating Red Hot & Blue locations include:
Maryland: Annapolis, Gaithersburg, Laurel
Virginia: Fairfax, Herndon, Leesburg, Manassas, Warrenton, Williamsburg
New Jersey: Cherry Hill
North Carolina: Raleigh
Missouri: Joplin
Texas: Dallas, Flower Mound, Fort Worth, Irving, North Richland Hills, Plano
For more information, visit: http://redhotandblue.com/mississippi-hot-catfish/
About Red Hot & Blue BBQ Restaurants, Incorporated:
Red Hot and Blue Restaurants, Inc. was named in the top 3 "Best Barbecue Chains in America" according to The Daily Meal article originally published on March 5, 2014. Editor Dan Myers sifted through regional preferences to funnel the most popular chains in his list of 10 Best Barbecue chains in America. Criteria for selection was based on: "local renown, consistency of food across all the locations, adherence to traditional barbecue techniques like "low and slow" on-premise smoking, atmosphere and most importantly, if the food tastes good." The full article may found online at: http://www.thedailymeal.com/10-best-barbecue-chains-america/3414
The original Red Hot & Blue Restaurant was founded in 1988 in Arlington, Virginia by a group of true Southerners (including three politicians from Tennessee) and a transplanted "Yankee" who could not find authentic slow-smoked Memphis-style barbeque to their liking in the Nation's Capital. Since its start, Red Hot & Blue has grown into 18 locations in 6 states: Maryland, Missouri, New Jersey, North Carolina, Texas, and Virginia, The Red Hot & Blue mission is to "serve only the best quality authentic Memphis-style Barbeque in a fun, casual atmosphere surrounded by blues music and memorabilia." Red Hot & Blue's premier catering team has been serving the Washington DC area for over 25 years at events from birthdays, anniversaries, baby showers or graduation gatherings, corporate meetings and presentations, retirement parties and family reunions to casual or formal weddings and large banquets.. For more information, visit http://www.redhotandblue.com
###
For additional information or franchise opportunities, please contact: Randy McCann, President, Red Hot & Blue Restaurants, Inc., 154 Charlois Boulevard, Winston-Salem, North Carolina, 27103. Phone: 336-714-1515; E-mail rmccann(at)rjdmgt.com. The general web site for Red Hot & Blue Restaurants is http://www.redhotandblue.com