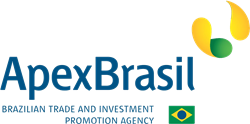 AUSTIN, Texas (PRWEB) March 08, 2017
The Brazilian Trade and Investment Promotion Agency (Apex-Brasil) will showcase 68 of Brazil's most exciting companies at the 2017 SXSW Interactive Festival. As part of its mission to bring the best of Brazil to the world's global investors and trade fairs, Apex-Brasil will share the abundance of opportunities that exist in its vibrant ecosystem with attendees at SXSW Interactive.
Apex-Brasil has reserved one of the largest displays on the SXSW Pavilion tradeshow floor to feature 17 of the country's most innovative companies. These companies will demo products that best illustrate Brazil's latest creative achievements — and underscore why Brazilian companies are becoming increasingly attractive to global investors.
"Brazil is a very creative nation," said Márcia Nejaim, business director of Apex-Brasil. "You'll be surprised to find that our companies and technology power businesses all over the globe. Apex-Brasil is committed to showcasing Brazilian creative industries to the global business and investment community. Brazil has always attracted foreign investments and traditionally has been one of the top destinations in the world for foreign direct investment (FDI). Today, with the recovery of the economy and improved conditions, there are even greater investment opportunities."
A diverse range of industries will be represented, including technology (artificial intelligence, virtual reality, gaming), culture and entertainment (film, dance, music, fashion) and business development (consulting services, branding, marketing). Here are a handful of examples of the types of exciting Brazilian companies that will be at SXSW:

Apex-Brasil will also host a highly interactive lounge — a dome constructed in the Brush Square Park space of the Austin Convention Center. The dome, or Be Brasil Lounge, will be open to all SXSW attendees March 10-14 from 10 a.m. to 6 p.m. Guests will enjoy five 360° films produced by O2 Filmes and directed by Fernando Meirelles, an internationally acclaimed Brazilian filmmaker who directed the Rio Olympics 2016 opening ceremony, as well as the award-winning films "City of God" and "The Constant Gardener." Specialty cocktails will be provided daily during happy hour from 5-6 p.m.
Brazilian professionals will lead three panels on technology during SXSW Interactive:
"Brazilian VR: Creativity to Hit Millions of Views," led by O2 Filmes, will focus on creating 360° videos in virtual reality. It will be held on March 15 from 3:30 to 4:30 p.m. at JW Marriott, Salon 3-4.
"Not Another Valley: Startup Hubs in Latin America" will focus on startup hubs in Brazil, Colombia and Mexico, as well as discuss the creation of ecosystems that support the emergence of new enterprises. It will be held on March 10 from 5 to 6 p.m. at Hilton Austin Downtown, Salon D.
"Hack Creativity with Neuroscience, Arts and Tech" will focus on how the creative process works and how certain methods can be used to produce new insight. It will be held on March 10 from 3:30 to 5:30 p.m. at Westin Austin Downtown, Continental 1.
In addition to technology, representatives from Brazil will participate in panels on education, fashion, film, architecture and music. For a full list of panels and events led by Brazil, visit the event page.
About Apex-Brasil
The Brazilian Trade and Investment Promotion Agency (Apex-Brasil) works to promote Brazilian products and services abroad, and to attract foreign investment to strategic sectors of the Brazilian economy. The Agency supports more than 11,000 companies from 80 different industries, which in turn export to 200 markets. Apex-Brasil also plays a key role in attracting foreign direct investment to Brazil, working to detect business opportunities, promoting strategic events and providing support to foreign investors interested in allocating resources in Brazil.
Facebook: http://www.facebook.com/bebrasilbr
Twitter: http://www.twitter.com/BeBrasilBR
Instagram: http://www.instagram.com/bebrasilbr