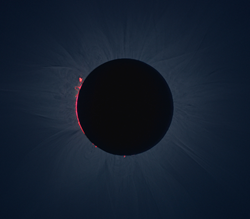 (PRWEB) March 09, 2017
News Release
March 7, 2017
For More Information
Paige Eagan, Ph.d.
Dean of Math & Sciences
269.488.4219 or peagan(at)kvcc(dot)edu
Kalamazoo Valley to Host Daytime Activities for Astronomy Day 2017
Kalamazoo Valley Community College, in partnership with the Kalamazoo Astronomical Society (KAS), present Astronomy Day, "The 2017 Great American Eclipse," on Saturday, April 29 from 10 a.m. to 4 p.m. at the Texas Township Campus, 6767 West O Avenue, Kalamazoo, 49009.
The free event is geared toward all ages. It will include activities for school age children as well as a day of outstanding lectures in the Dale B. Lake auditorium and items for adults and families alike.
Astronomy Day will focus on the August 21, 2017 total solar eclipse that will cross the United States from coast to coast. It will give tens of millions of people along a 70-mile-wide, 2,500-mile-long path from Oregon to South Carolina a chance to see the sun's spectacular corona, a sight hidden from view except during a total eclipse. Occurring during the summer vacation season, it holds the potential to be seen by more people than any other event of its kind in history.
The daytime activities include a solar star party, educational and informative displays, hands-on activities, an eclipse photography workshop, and special eclipse talks for kids. The KAS will also have "Eclipse Shades," one of the easiest ways to safely view the eclipse, available for purchase.
Three noteworthy guest speakers will share their insight to help participants prepare for the best possible viewing and appreciation of the eclipse. Presentations will be given by author and astronomer Dr. Tyler Nordgren, and world-renowned eclipse chasers Jay Anderson and Fred Espenak. Between them, the speakers have witnessed 60 total eclipses of the sun.
Dr. Nordgren will lead off at 11 a.m. with his talk entitled "Sun Moon Earth: Solar Eclipses from Omens to Awe." He will be followed at 1 p.m. by Mr. Anderson who will present, "Moonshadow Madness: The Lure of the 2017 Total Eclipse." Then at 3 p.m., Fred Espenak ("Mr. Eclipse") will close out the afternoon with his talk "Predicting and Chasing Solar Eclipses."
Astronomy Day concludes with an observing session for the public at the Kalamazoo Nature Center starting at 8 p.m., weather permitting.
For more details, visit the Kalamazoo Astronomy Society's website at kasonline.org.