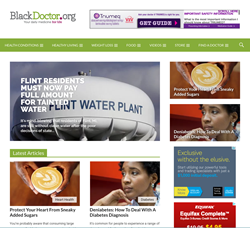 Chicago, Illinois (PRWEB) March 08, 2017
BlackDoctor.org (BDO), the leading online health destination for Black consumers, is definitively on the path to changing the face of health and getting every family in Black America healthy based on recent findings from the National Institutes of Health (NIH) and the National Cancer Institute. For the first time, premature death rates have declined in the U.S. among Blacks, according to a comprehensive study of premature death rates for the entire U.S. population from 1999 to 2014.
African Americans have higher incidences of nearly every major disease and condition, as well as shorter life spans overall. According to the American Cancer Society, African Americans have the highest death rate "of any racial and ethnic group in the U.S. for most cancers." These include prostate, colorectal (colon) and breast cancers.
Researchers from the study believe the decline in premature death rates reflects successes in public health efforts to improve diagnosis and treatment during the course of the study. Since 2005 when BDO was launched, the focus has been on raising awareness which in concert with many other public health efforts has resulted in this good news.
Today, BDO reaches more than 40 million readers monthly and is the primary destination for Black health news and life-saving information.
"For the first time in my lifetime, Black deaths have decreased; that's great news. I am delighted that BlackDoctor.org has been a strong advocate to achieve this kind of outcome," said Reggie Ware, Founder and CEO of BlackDoctor.org. "Our content helps people modify behavior, and it's rewarding that national data reflects what our internal and third-party research has shown for years."
Creating content that is relatable, engaging and timely is how BDO excels ahead of similar health sites. In 2016, BlackDoctor.org was awarded a prestigious Stevie Award from the American Business Association for its "My Story" editorial series, which highlights the health testimonies of BDO readers.
Executive Editor, Sandria Washington, explained, "What this study shows is the beginning stages of Black people closing the health gap. When given the right information in the right way, we can truly do better when we know better. BlackDoctor.org is motivated to continue giving our community the information they need."
While the decreased premature death rates for African Americans is a promising milestone, the work is far from over. Early death rates have increased for whites. "The recent NIH report detailing changes in premature death (age 25-64) brings both encouraging and distressing news," said Dr. Clyde Yancy, chief of cardiology, Feinberg School of Medicine at Northwestern University and expert contributor to BlackDoctor.org.
Dr. Yancy reminds us that, "…the overall rate of premature death remains high in the U.S. and is now driven by new public health burdens, including accidental deaths, drug overdoses and liver disease. The fight must continue. All populations at risk should be targeted and newly emerging threats should be diligently addressed."
The research findings appeared Jan. 25, 2017 in The Lancet.