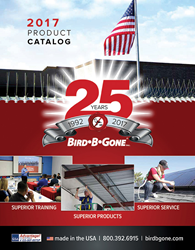 Irvine, CA (PRWEB) March 16, 2017
A 2017 product catalog featuring new bird control products, training options and educational video offerings has just been announced by Bird B Gone, the leader in professional grade bird control products for commercial, industrial and residential applications. The new catalog makes it easy to locate any of the company's ever-growing repertoire of pest control solutions.
Bird B Gone products have helped solve pest bird problems in commercial, industrial and residential venues worldwide since 1992. The number one manufacturer and supplier of bird control products, Bird B Gone developed one of the most effective and humane bird deterrents ever devised—the original Polycarbonate Bird Spike. The new products featured in its 2017 catalog will significantly enhance the company's pest control offerings.
Bird B Gone products are humane, effective and carry industry-leading guarantees. They are the most specified products by architects, engineers and government agencies. Bird B Gone bird deterrents and repellents have been used to successfully control pest birds at such high-profile locations as airports, schools, hospitals, military bases and historical buildings. The company's bird control engineers have over 100+ years of combined experience. Bird B Gone is the only bird control company with an ornithologist on staff to help teach and advise customers.
Most bird control products are manufactured at the company's US facility to ensure high quality and competitive pricing. They offer same-day and express shipping, even on custom netting. Their products are available worldwide through a network of distributors.
Bird B Gone also offers free training and support for all aspects of bird control, including on-site training and technical support. The company regularly hosts free training courses at Bird B Gone University, which provides comprehensive instruction in everything from quoting a job to product installation. The extensive training is now also offered out of state at the Courtyard by Marriott Atlanta Marietta off the I-75 North at 2455 Delk Road SE in Marietta, GA 3006. Also available are the informative and timely "Two-Minute Tuesdays" video tips to help with product selection and installation.
To request the new 2017 catalog now available in both English and Spanish, visit:  https://www.birdbgone.com/bird-control-product-catalog.html
Bird B Gone is the world's largest manufacturer and distributor of bird control products, providing effective and humane solutions to a bird-free environment. The company provides advice; training and installation services for those who need help with these and other bird control measures. For the complete line of products from Bird B Gone, call 1-800-392-6915; fax: 949-472-3116 or visit our website at http://www.birdbgone.com, e-mail: nobirds(at)birdbgone(dot)com.