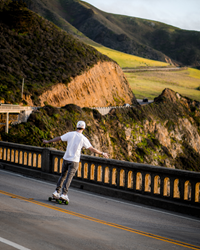 Thousands of ACTON fans are eagerly awaiting the arrival of their BLINK S, so we could not be more excited to begin shipping!
Mountain View, California (PRWEB) March 10, 2017
ACTON, is a leading designer and manufacturer of advanced, smart, and innovative electric skateboards, electric skates and electric scooters.
The much-anticipated Blink S electric skateboard from ACTON will start shipping on March 8th 2017 to thousands of backers across the globe. ACTON made headlines in 2016 when they raised over $1.4 million on the popular crowdfunding service, Indiegogo, making the all new BLINK range the most funded electric skateboards in crowdfunding history.
The BLINK S will let you travel up to 7 miles, cruise at speeds up to 15 mph, and can be completely charged in as little as one hour, making it the perfect rideable for city dwellers, college students, and one of the best electric skateboard on the market.
With the Blink S shipped, backers are now eagerly awaiting the BLINK S2, due to ship in the next month, and culminating in the QU4TRO soon thereafter. Keep your eyes open for the distinct BLINK electric skateboards on the streets near you.
Readers can order the BLINK S for $699 on the ACTON Online Store. About ACTON ACTON is the creator and purveyor of lightweight, smart, and fun transportation devices that blend technology and fashion. Its passion for innovative technology and elegant designs makes its products the cutting edge of the electric transportation category. For more information, visit http://www.actonglobal.com.
Press Kit: https://www.dropbox.com/sh/sqr5hj4fxxkn3ez/AAAlZgmMU00i2_ZppcNPCLWma?dl=0 
Sample Video: https://youtu.be/f9XRWJYJJ1k
Indiegogo: https://www.indiegogo.com/projects/acton-blink-most-advanced-eboards-ever--2#/
Thank you for your time, Peter Treadway CTO of ACTON