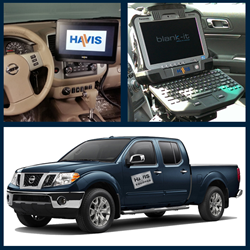 WARMINSTER, Pa. (PRWEB) March 08, 2017
Havis Inc., a leading manufacturer of mobile office solutions, has added vehicle-specific computer docking and mounting solutions designed to increase mobile productivity in work trucks, vans and SUVs. Havis will display the solutions at booth #2700 at the National Truck Equipment Association (NTEA) Work Truck Show, which will take place from March 14-17, 2017, in Indianapolis, Indiana.
Havis offers vehicle-specific solutions for a number of top-selling brands, including Ford, Chevy, Dodge, Nissan and more. Havis will display a total mobility solution installed in a 2016 Nissan Frontier at booth #2700 during the 2017 NTEA Work Truck show, including the following:

Havis' Touch Screen Display and Dash Mount Solution includes a lightweight display that mounts directly to a vehicle's dash panel and functions as an external monitor so that computing devices can be docked and mounted elsewhere in the vehicle to save space in the cabin. The vehicle-specific Dash Monitor Mount allows drivers to easily adjust the display, with a tilt swivel motion to simply and securely access to the OEM control panel.
Havis Rugged Keyboard & Integrated Keyboard Mount System includes an IP65-rated, backlit keyboard and patent-pending mount. The rugged keyboard mount is made of high-performance PC-ABS thermoplastics for outstanding strength, heat resistance, feature definition and surface finish, and reinforced with a mount plate of glass fiber polymer for added durability. The mount has a quick release function from the front for easy keyboard removal.
Havis Flex Arm and Mounting Base is ideal for keyboards and lightweight tablets. A flexible shaft is included with a swivel ball joint on top that provides multiple positioning options. The vehicle-specific base mounts easily under the passenger seat bolt.
Havis Screen Blanking Solutions powered by Blank-It provide easy, safe and legally-compliant ways to prevent driver distraction and manage mobile computer displays when a vehicle is in motion.
The following will also be on display in Havis' booth #2700:

Havis Docking Solutions for numerous specific computing devices including Apple, Dell, Getac, Microsoft Surface, and Panasonic Toughpads and Toughbooks. Havis' wide range of computing and mounting solutions and peripheral accessories provide solutions for any mobile workstation. Havis works closely with computer manufacturers to develop computer device specific docking stations and cradles.
Havis Passenger Side Mounts bundle all the necessary parts to create a safe and comfortable rugged mobile workstation mounted on the passenger side of the vehicle. Havis' series of Passenger Side Mounts includes solutions with swing arms or tilt-swivel motion devices to allow drivers, front seat passengers or both to use computing devices comfortably. The vehicle-specific base mounts are designed with built-in OEM seat bolts for an easy and low-impact installation.
Havis Heavy Duty Pole Mounts mount to vehicle-specific bases to provide simple and secure up and down adjustment for universal laptop, keyboard and docking station mounts in Heavy Duty applications.
Havis works directly with OEMs to develop vehicle-specific mounting solutions that create more comfortable, safe and productive mobile offices. Havis' docking and mounting products are ergonomically designed to maximize safety and comfort, and tested to the industry's highest safety standards to ensure quality performance in the most rugged conditions.
For more information, please visit Havis' "Search by Vehicle" page at http://www.havis.com.
Follow Havis
Stay up-to-date on the latest products and announcements from Havis through the Havis Equipped Blog, LinkedIn and Facebook.
About Havis
Havis Inc. is a privately held, ISO 9001:2008-certified company that manufactures in-vehicle mobile office solutions for public safety, public works, government agencies and mobile professionals. For more than 80 years, the Havis mission has been to increase mobile worker productivity with industry-leading products that are built to the highest safety and quality standards and are designed with comfort in mind. Havis is dedicated to responsible intellectual property management, and fosters ongoing innovation. Havis' patent and trademark portfolio demonstrates commitment to consistently researching and developing unique products and solutions for mobile industries around the world. With headquarters in Warminster, Pa., a location in Plymouth, Mich., and Havis Europe Ltd. based in in the United Kingdom, Havis currently employs more than 300 people. For more information on Havis, please call 1-800-524-9900 or visit http://www.havis.com.