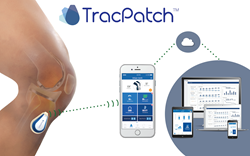 Sacramento, CA (PRWEB) March 08, 2017
El Dorado Hills, CA, March 8th, 2017: Consensus Orthopedics, a joint reconstruction manufacturer, proudly announces its entry into the orthopedic wearable devices market. TracPatch is a groundbreaking wearable device that remotely monitors a patient's post-surgical activities by continuously sending activity data, including range of motion (ROM), ambulation, exercise compliance, and wound site temperature trends. Healthcare Providers will now have insight 24/7 into how a patient is recovering from total joint surgery, thus improving outcomes and reducing costs. The TracPatch wearable device system will be debuted at next week's American Academy of Orthopedic Surgeons Annual Meeting in San Diego, CA, March 14th-17th, 2017, Booth #1233.
The first six weeks of at-home recovery after total joint surgery are critical for a positive outcome. Visibility into the patient's at-home activity is nonexistent. This limited insight along with the emergence of value-based medicine, including programs such as Comprehensive Care for Joint Replacement (CJR), signifies a new paradigm shift in cost control and responsibility for hospitals and surgeons. The Centers for Medicare & Medicaid Services, CMS, is sending a clear message with CJR: they want hospitals and post-acute providers to partner and coordinate for a patient's entire 90-day episode of care. Through an IoT (Internet of Things) approach, TracPatch helps both the patient and healthcare provider coordinate care and accountability.
The TracPatch device is placed on the lower leg just below the joint line, using non-allergenic adhesive disposable pad. TracPatch is designed to enable any healthcare provider to collectively and continuously monitor their TracPatch patients' progress. TracPatch will record patient's range of motion (ROM), ambulation, exercise compliance, and temperature trends regardless of what implant system is used.
This machine learning device optimizes the patient's entire episode of care by enabling a proactive approach. Whether the recovery is going well or needs immediate attention, the healthcare provider can adjust the patient's post-surgical activities and goals anytime, anywhere to better facilitate and improve the patient's recovery. The device transmits key post-surgical data points directly to a secure cloud-based platform, where healthcare providers can track patient progress on the TracPatch mobile app or web dashboard. The TracPatch app features an intuitive interface for easy operation on any smart phone or tablet with Bluetooth technology.
Dr. Shervin Oskouei, MD, Dept. of Orthopedic Surgery, Emory University School of Medicine, said "TracPatch can add tremendous value to the entire episode of care. This technology allows a healthcare provider insight into never-before-seen data for post-surgical rehabilitation. Being able to monitor your patient's range of motion progress and exercise compliance daily is a game changer. TracPatch is making proactive care easy, so every patient has an excellent outcome."
Curt Wiedenhoefer, President of Consensus Orthopedics, says, "In this new value-based healthcare environment, to be able to combine the exploding adoption of wearable technology and apply it to the total joint industry is going to revolutionize the way we deliver care. For the first time in the history of joint surgery, we are using microelectronics to passively capture valuable post-surgical recovery information. Now, healthcare providers have objective data for every patient, especially during those critical six weeks of post-acute care."
With the launch of TracPatch, Consensus Orthopedics is ideally positioned to partner with all healthcare providers looking to improve outcomes, reduce costs and enhance patient satisfaction. With CJR bundled payments rolling out nationwide, TracPatch is a truly innovative product for the value-based healthcare market as well as any provider looking to redefine their episode of care.
Explore TracPatch by visiting Consensus Orthopedics Booth #1233 at the American Academy of Orthopedic Surgeons Annual Meeting in San Diego, March 15-17. See for yourself how this device can revolutionize the way you deliver care.
To learn more about the TracPatch wearable device system, visit tracpatch.com, call 916-355-7131, and visit Booth #1233 at AAOS.
About Consensus® Orthopedics, Inc.
Consensus Orthopedics was founded in 1992 as a medical device consulting company. In 1996, Consensus Orthopedics acquired US Medical Products, becoming a global manufacturer of reliable large joint orthopedic devices. In 2016, Consensus Orthopedics launched its innovative TracPatch division focused on creating transformative wearable technology designed for real time continuous post-surgical patient monitoring. With a focus on patient care, Consensus is dedicated to creating one team and providing exceptional outcomes. Learn more at http://www.consensusortho.com.