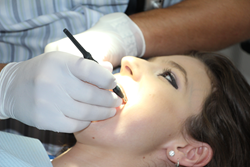 Like even the very finest car or airplane, teeth also require a great deal of upkeep to be kept in good working order.
Beverly Hills, CA (PRWEB) March 15, 2017
A March 2 article on Gizmodo discussed how scientists' investigation of the basic composition of tooth enamel may yield clues regarding how to better construct key airplane and automotive components in the future. Los Angeles area dental clinic Smile Boutique Beverly Hills notes that this news is not too surprising, as teeth are an immensely powerful part of the human body that can perform some pretty amazing feats in terms of helping us to break down and properly digest a wide variety of foods. The clinic adds that, however, like even the very finest car or airplane, teeth also require a great deal of upkeep to be kept in good working order. The dental clinic adds that individuals who want to devote the same level of care to their teeth as they would to an outstanding vehicle should take the following steps.

Regular Dental Visits. Just as a car can't perform at its best while only being provided with gasoline and perhaps the occasional pint of oil, daily brushing and flossing alone isn't quite sufficient to keep teeth and gums in good working order over the long term. Smile Boutique Beverly Hills notes that a yearly exam and biannual teeth cleaning are absolutely essential for spotting problems and for cleaning up the kind of dental plaque that self-care typically can't quite handle.
Restorative dentistry. While a car can often be kept up for a long period of time through scheduled maintenance (oil changes and the like), sooner or later it's going to need actual repairs to deal with some kind of structural problem. So it is also with a patient's teeth and gums, notes Smile Boutique Beverly Hills. From filling cavities to root canals to preserve more severely compromised teeth, the dental clinic notes that a quality dental clinic can do a great deal to prevent a minor dental issue from becoming a major league toothache or worse.
Cosmetic Dentistry. Just as an airplane or an automobile might need some cosmetic work to repair a dented fender or to restore paint that's been scratched or lost its shine, perfecting a smile requires some technical skill and an artist's touch, says Smile Boutique Beverly Hills. From the thoughtful use of such leading edge options as cosmetic bonding, Zoom! laser teeth whitening, Invisalign (a translucent alternative to traditional braces), and much more, the clinic notes that a first-rate dental clinic do a great deal to make a mouth as visually appealing as it is physically powerful.
Interested readers who are curious about taking advantage of what Smile Boutique Beverly Hills has to offer are invited to call (424) 281-0959 or they may visit its website at http://smileboutiquebeverlyhills.com/.