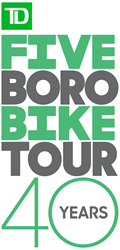 New York, NY (PRWEB) March 08, 2017
EVENT
40th Anniversary TD Five Boro Bike Tour Presented by REI
DETAILS
NEW YORK, NY - As New York City continues its efforts to make transportation safer, healthier, more sustainable, more equitable, and otherwise more sensible for residents and visitors alike, the nonprofit organization Bike New York is celebrating the 40th anniversary of its landmark achievement in cycling advocacy and education: the TD Five Boro Bike Tour Presented by REI, taking place May 7th.
In 1977, when the plan was hatched for what would become the TD Five Boro Bike Tour, New York City was a very different place, and a forbidding one for aspiring cyclists. Nevertheless, a few passionate New Yorkers had the improbable idea to take a few hundred high school students on a ride around the city—and history was made. Today, the Tour welcomes 32,000 cyclists from every state in the nation and dozens of countries, making it America's largest bike ride and one of the largest charitable rides in the world. Aside from being an empowering fundraising event, it also remains one of the best ways for anyone to see and experience all five boroughs of New York City—which explains why it's become both a bucket-list event as well as an annual tradition.
For many New Yorkers, the importance of the Tour lies in its fundraising aspect; thanks to proceeds from the event, Bike New York offers free bike skills to more than 17,000 kids and adults every year, with a focus on underserved communities, making it the largest free bike education program in the country, if not the world. The last few months also saw the launch of Bike New York's first Membership Program, and in January, they joined forces with another leading New York bicycle nonprofit, Recycle-A-Bicycle, to bring bike education programs to more kids and adults in the five boroughs.
In addition, while cycling is inherently an environmentally sustainable mode of transportation and recreation, large scale events are not—which is why last year Bike New York worked to achieve Gold-level certification by the Council for Responsible Sport, making the Tour a leader in sustainability and event production.
On the two days leading up to the Tour, Bike New York also organizes Bike Expo New York, the largest consumer bike show in the country, which doubles as the rider packet pickup location for Tour registrants. More than 100 exhibitors, state-of-the-art gear, onstage programming, demos, classes, a beer garden, and much more will fill Pier 36 at Basketball City on the Lower East Side. There's no better way to kick off National Bike Month!
DATE/TIME
May 7, 2017 (Tour)
May 5 & 6, 2017 (Expo)
MEDIA CONTACT
Sam Polcer
Director of Communications
Bike New York
spolcer(at)bike.nyc
212-870-2085