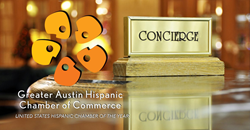 "At the GAHCC we lift-up business, and we lift-up people. That is our core value proposition that fuels our mission and vision." Mark Madrid, President and CEO, GAHCC
Austin, Texas (PRWEB) March 09, 2017
The Greater Austin Hispanic Chamber of Commerce (GAHCC) constantly looks for opportunities to bring their members disruptive, innovative business solutions to enable their companies to expand their capabilities, fine-tune their communication and grow beyond Texas. As part of their 2017 initiatives to expand their member features, GAHCC President and CEO Mark Madrid announced today the unveiling of the GAHCC Concierge Desk, a platform that offers constituents a host of business solutions centered on branding, marketing, corporate communication, demand generation and video content designed to help members accelerate their expansion into other markets and to do business with larger corporations.
"One of the key elements necessary to make a company ready for global or, as I like to call it, 'glocal' expansion is their brand and communication. We know corporations want to do business with small, minority- and diverse-owned companies, and that describes many of our members at the GAHCC. Smaller companies, however, often need to improve on the quality of their branding and communication, and this led us to the inception of the Concierge Desk, a dedicated provision of business solutions to empower our constituents to thrive in a highly competitive market," stated Mr. Madrid.
The Greater Austin Hispanic Chamber of Commerce partnered with award-winning business solutions provider CF Creative to power the GAHCC Concierge Desk, offering special rates for the organization's network. The solutions cover the gamut from corporate literature, proposal writing, partnership documents, translations, responses to bids, commercials and advertising, social media, lead generation campaigns and corporate and explainer videos, among others. CF Creative is a Florida-based strategic communication and demand generation firm that serves startups and corporations alike, doing business with clients such as Microsoft, the University of Miami International Medicine Institute, UHealth International, Kaiser Permanente, SDI International Corp, and others. "CF Creative brings over 20 years of experience in corporate communication, demand generation and video production for Fortune 500s to the GAHCC's members, and we are deeply committed to enabling fellow Hispanic companies with the business tools they need to revolutionize their business development efforts," said Conchie Fernández-Craig, Managing Partner of CF Creative.
"And to make sure we enable many of our members to do business across borders, our Desk offers all services in English and in Spanish," Mr. Madrid further shared. The GAHCC has a robust portfolio of business development programs designed with the evolution of the Latino entrepreneur in mind, such as capacity building and scaling collaborative initiatives, like the GAHCC signature and nationally award-winning Small Biz U platform, certification/procurement virtual classes, and small business initiatives such as the Concierge Desk.
Madrid declared, "At the GAHCC we lift-up business, and we lift-up people. That is our core value proposition that fuels our mission and vision."
Watch the GAHCC Concierge Desk informative video to members here.
Reach out to the GAHCC Concierge Desk for a free consultation: GAHCCConcierge(at)cf-creative(dot)com
Visit the GAHCC
For media enquiries, contact Andie Farris, CF Creative: marketing(at)cf-creative(dot)com or (954) 448-7590.