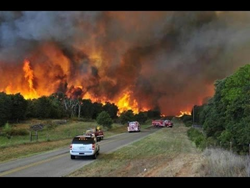 Never has there been any type of destruction to our state of this caliber. —A Chief Firefighter
(PRWEB) March 08, 2017
The Woodward County emergency management team said the residents in Buffalo, Laverne and north central Woodward County are being evacuated and are urged not to try and stay in their homes due to the widespread fires. The City of Woodward is currently safe but residents are asked to monitor conditions in case there is a change of wind direction.
About 7:30 p.m., an evacuation warning was issued for the town of Fort Supply. Residents are asked to go to a shelter at the Pioneer Room, 1212 9th Street, in Woodward. If your home is affected by #okwildfires, report it to #RedCross volunteers @ Pioneer Room evacuation center or call 580-256-3828.
Multiple wild-fires were reported near Laverne and Buffalo, the Harper County emergency management team confirmed. The Laverne fire moved into Woodward County, and the fire line is about 25 miles in length. Three of the local fire departments from Woods County responded to the fire. Major and Custer counties also have sent for the usage of more task forces to assist with Harper and Woodward county wildfires.
There have been reports of assistance from many US and neighboring states volunteering to help fight the fires and disaster cleanup. One nursery located near Nashville, Tennessee is also wanting to help restore all the burned up trees in the path of the wildfire's destruction. Tammy Sons, CEO of Tennessee Wholesale Nursery (http://www.tennesseewholesalenursery.com) has recently contacted the Forestry Department offering a massive donation of 10,000 tree seedlings to help replant the forest and provide some much needed shelter for all the small animals that lost their home. Tammy says it's not as valuable as helping needy families but it's a way she can help utilize what she does to help the environment.
Contact:
Susan Green
sales(at)tnnursery(dot)net
Main St
Nashville Tn
USA