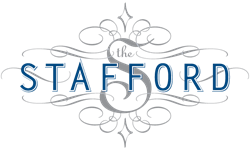 Lake Oswego, Oregon (PRWEB) March 09, 2017
The Stafford boutique retirement community has received its third back-to-back survey from the Oregon Department of Human Services (DHS). The unannounced inspection, which is conducted by DHS in accordance with strict guidelines administered by the Centers for Medicare & Medicaid Services, examined resident quality of care and quality of life, dietary services, fire safety, and environmental services.
"This is a true testament to the unwavering commitment our staff has for the comfort and quality of care they provide our residents," says Wendy Wood, Executive Director. "A single deficiency-free survey is a milestone for most assisted living programs. For us, three perfect surveys in a row is us living out our mission to enhance the life of every person we serve."
The perfect inspection score is the best score an assisted living program can receive and is an achievement only a few assisted living providers in the state can claim. The survey process also included interviews with residents, residents' family members and Stafford employees, and a record review of documentation.
About The Stafford
The Stafford, located at 1200 Overlook Drive, is a beautiful boutique retirement community is nestled in the rolling hills of Lake Oswego, OR where the focus is on the comfort and vitality of its residents. The campus includes a complete spa, personal concierge, and premiere amenities including a movie theater, art classes, social events, concerts, and more. The Stafford's fine dining restaurant, Mélange, and exceptional catering services are available to the public as well.
The Stafford is a member of the Avamere Family of Companies and an operating member of Signature CareConnect, which gives its residents access to a local network of comprehensive post-acute healthcare services. Learn more at http://www.thestafford.net.