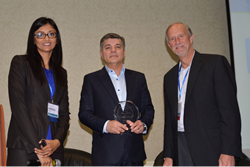 Our goal at Resilinc is to transform risk into a competitive advantage for our customers
Milpitas, Calif. (PRWEB) March 08, 2017
The winners of the awards for supply chain resilience and risk management excellence were announced on Wednesday March 1, 2017 at RESILIENCY 2017. The annual conference and awards gala was organized by the Global Supply Chain Resiliency Council in Silicon Valley. This is the industry's premier platform for awards and recognition for excellence and thought leadership. The Council recognized teams, organizations, educators and individuals contributing to the discipline and practice of supply chain resiliency management.
The Supply Chain Resiliency Excellence award is presented to companies that have successfully embedded Supply Chain Resiliency practice into the very fabric of their operations. The two companies that have consistently advanced and achieved excellence in their supply chain resiliency capabilities since embarking on their journey four years ago are Western Digital and Dell EMC. The Global Supply Chain Resiliency Council, with input from its technical advisor Resilinc, presented the award to supply chain executives from both companies.
Rubik Babakanian, senior vice president and chief procurement officer of Western Digital accepted the award on behalf of Western Digital. Lisa Brady, senior director of sustainability and risk management and Dermot McDonald, Business Continuity Program Manager accepted the award on behalf of Dell EMC.
Evaluation Criteria
Resilinc evaluates companies' supply chain resiliency programs based on key metrics that the company tracks on an ongoing basis, and maps each company to the appropriate stage of the maturity model. Resilinc's Supply Chain Resiliency Maturity Model is adopted and adapted from the maturity model developed by Supply Chain Risk Leadership Council. It incorporates five stages of maturity described briefly as detailed in the attached table.
"We believe that companies that are best in class leverage their supply chain resiliency programs to achieve competitive advantage. However, technology and deep supply chain visibility by themselves are not sufficient – weaving supply chain resiliency into the very fabric of day-to-day operations requires executive will, continuous action and extensive change management," says Ayeena Puri, Director – Customer Success, Resilinc. "Our goal at Resilinc is to transform risk into a competitive advantage for our customers. To achieve this vision, we partner very closely with our customers to make sure that they are continuously focusing on all aspects of their resiliency journey and realizing the true value of their resiliency investments."
Best in Class Metrics Performance
Resilinc measures and benchmarks customers across key metrics spanning the level of visibility (depth and breadth), the speed of response to problems, the level of internal user and supplier adoption of the program and technology, as well as the speed and effectiveness of event response and recovery.
"My team shares performance on these metrics and comparison to best in class with each customer on a quarterly basis, at our Executive Business Reviews," says Ranna Rose, vice president of operations at Resilinc. "We consider this an essential element of resiliency programs because what can be measured can be improved. Our executive sponsors want to ensure that their programs continue to grow, thrive and drive competitive advantage."
Resilinc's best in class customers demonstrated consistent excellence in most of the metrics tracked. This includes:

98% supplier on-boarding success (on initial survey and subsequent refreshes)
95% or more parts mapped to sites
80% or higher Level 1 sub-tier visibility
100% events analyzed within 2 hours
80% or more suppliers responded to events to confirm impacted vs. not impacted within hours
Broad user adoption, and frequent usage of the system
Remove silos by using technology as system of record
Additional best practices in place:
People
-Risk Governance Board
-Dedicated Supply Chain Risk Management Team established
-Financial incentives for suppliers to invest in resiliency
Process
-Design for resiliency implemented
-BCP and recovery times incorporated in Force Majeure clause in supplier contracts
-Event response playbooks created
-Supplier resiliency incentives and rewards instituted
Technology
-Risk strategies and thresholds defined
-War-room and scenario planning
-Proactive mitigation wizard widely used to track and capture actions
About Resilinc
Resilinc helps CEOs and Chief Supply Chain Officers consistently achieve their revenue goals despite supply chain disruptions worldwide. Resilinc's platform provides companies access to advanced multi-tier mapping and part origin intelligence, collected from over 35,000 suppliers across more than 65,000 factories globally. Industry leading companies like IBM, General Motors, EMC, Amgen and Western Digital rely on Resilinc's supplier intelligence repository, combined with analytics regarding vulnerabilities, risk scores and revenue impact to predict the critical failure points in their supply chain. This helps them to prioritize and proactively mitigate supply chain risks before they manifest into major problems. What's unique about Resilinc is the deep supply chain expertise of the team, the ability for customers to accelerate meeting their resiliency goals without hiring large teams or investing in IT projects by leveraging the full suite of supplier and customer facing services, gain high quality data from an ISO certified data operation and gain tremendous benchmarking and help throughout their maturity journey. Resilinc is the solution of choice for Chief Procurement Officers who want to be in control of their supply chain and sleep better at night knowing they will be able to consistently meet their revenue goals without needing to hold extra inventory or pay expedited raw material or freight costs.