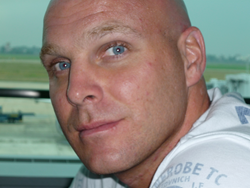 Some of the best, most powerful marketing tactics are free for everybody to use
Sydney, NSW (PRWEB) March 09, 2017
Dan Clay, founder of the fastest growing fitness marketing agency in the country, shares three low-cost marketing strategies from his new online personal trainer coaching course.
Dan Clay, fitness marketing coach and founder of Online Fitness Profits, says most online personal trainers can start their business with a very limited marketing budget.
"Some of the best, most powerful marketing tactics are free for everybody to use," he explains. "It's great if you have a nice marketing budget, but very few online personal trainers have one. Fortunately, much can be done to grow their clientele without spending a fortune on marketing."
Clay says one of his favorite low-cost marketing strategies involves Facebook. "Everybody knows they need a Facebook business page to promote their online personal training programs, but not every personal trainer utilizes their page properly," he says. "A great way to increase exposure is to post pictures of their clients on their page, commenting and congratulating them on their progress. Then when their friends leave a comment congratulating them, the online personal trainer can engage the friends and send them a free sample workout to try out."
Another excellent low-cost strategy his consulting clients use for marketing is joint venturing with local businesses where their target market visit. "Many of our clients create gift certificates for free workouts and give them to tanning salons, hairdressers and massage therapists. Those businesses then give them to customers as gifts and very often give the personal trainer a certificate that they can use as gifts for their clients for free massages, haircuts etc. The gift certificates can be produced very cheaply and brings in clients that might not have considered online personal training."
Another popular marketing strategy is volunteering to give away free workouts at health exhibitions, local festivals and charity events. A personal trainer can give away free workouts, inviting anyone to join in, then handing out flyers offering a free online workout or a special offer to join a program. "This strategy doesn't cost any money and is an excellent way to build your brand and credibility in your local community," says Clay.
While Clay says that there are certainly many online personal training marketing strategies that do cost more money, he explains that they are not more effective or better than the low-cost alternatives.
"Online personal trainers can spend lots of money on marketing strategies with varying degrees of success," he says. "But look at client referrals and word-of-mouth advertising. They're totally free and it's still the most powerful marketing tactic of all."
About Online Fitness Profits.
Online Fitness Profits was founded by fitness marketing and business coach Dan Clay, who has been named the 'hidden profits mastermind' behind several of the biggest online personal trainers. In addition, he is also the founder of FSWD and co-founder of Gold Coast SEO Pro.
To find our more about Dan Clay and his fitness marketing consulting, please visit http://www.onlinefitnessprofits.com/