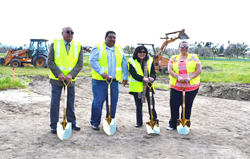 (PRWEB) March 08, 2017
Tribal Administrator and Soboba Tribal member Michael Castello opened the ceremony by welcoming the invited guests and dignitaries present, and then introduced Steven Estrada, Chairman of the Santa Rosa Band of Cahuilla Indians who provided a traditional prayer and blessing in his native language. Castello then introduced Soboba Tribal Council Chairman Scott Cozart, Vice-Chair Isaiah Vivanco, Treasurer Kelli Hurtado, Sergeant at Arms Rose Salgado, and Secretary Monica Herrera who was unable to attend due to unforeseen circumstances. Before a few words by the Chairman, Councilwoman Salgado recognized all of the tribal elders, youth and tribal members for their attendance, support and participation. She stated, "We must give gratitude for all our ancestors before us and for those who fought for our rights," Salgado continued "We must acknowledge all the tribal members and elders who gave us perseverance."
Those in attendance included Soboba tribal members, administrators, city and corporate officials, casino management and team members as well as hundreds of invited guests who came to witness the historic occasion.
The Soboba Band of Luiseño Indians, who have long aspired and fought to replace their current facility, celebrated the official ground breaking of the new property on the corner of Lake Park Drive and Soboba Road with an invitation only ceremony. The new resort-casino will be located just a few miles from the current casino property.
The modern, expansive gaming, hospitality, and entertainment complex will feature an 83,500 square foot casino floor with 2,000 slot machines and 24 table games, surrounded by eateries, bars, a sports lounge, a high limit room and many other indoor and outdoor amenities. The new state of the art hotel will feature over 200 rooms and suites. According to the individual who has been tasked to build this monumental project and the future casino-resort's General Manager Mr. Scott Sirois, guests will arrive to a hotel with spectacular amenities and sumptuous suites, modern technology and a few surprises. These extra touches will be a first for the Inland Empire and possibly the nation.
C.W. Driver, the builders tasked with bringing the project to life, were also in attendance at the ground breaking ceremony, they stated "We're thrilled to be working on the new casino and hotel development project with the Soboba Tribe," said Richard Freeark, senior vice president of C.W. Driver Companies' San Diego operations. "Our deep-rooted experience in the hospitality and gaming marketplaces coupled with our longstanding relationship with the Soboba Tribe makes this a seamless partnership for everyone involved."
The new facility will generate hundreds of new job opportunities and millions of dollars of economic stimulus for the local community, an opportunity which the city of San Jacinto is welcoming with open arms. During the ground breaking event Scott Miller, Mayor of San Jacinto, California issued a heartfelt vow of support and approval to the Soboba Tribe. He stated that "Long after all of us are gone, your legacy will go on. This center will become the diamond of this valley, a place to enjoy, refresh and relax. You are helping fulfill the purpose of this valley, for people to get away and rejuvenate their souls."
The land, which is situated on the corner of Soboba Road and Lake Park Drive, became officially under construction following the February 28th ceremony. Those who had the honor of "breaking ground" at the ceremony included Tribal Council Chairman Scott Cozart, Vice Chair Isaiah Vivanco, Treasurer Kelli Hurtado and Sergeant at Arms Rose Salgado.
Soboba Casino directors were also invited to "break ground" in the ceremony, included General Manager Scott Sirois, Director of Marketing Michael J. Broderick, Director of Slots Joe Whitman, Director of Table Games Jason Cozart, Director of Finance Sean Sadeghi, Director of Property Management Rick Herron, Director of Human Resources Barbara Mendez, Director of Food and Beverage Cherie Wood, Director of Security Ken Toler, and Director of IT Steven Nino.