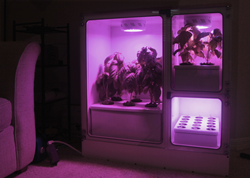 The 3 chamber design reduces waste and increases efficiency through faster growth cycles, more harvests per year, and much more flexibility in plant growth options.
Jacksonville, FL (PRWEB) March 13, 2017
Aeroasis is a young AgTech company dedicated to changing how people grow food. Having designed a consumer scale Smart Gardening Appliance ready to grow food right out of the box, Aeroasis offers a fresh take on hydroponic gardening. With a Kickstarter campaign scheduled for March 21st, Aeroasis is eager to expand their product development efforts and push their vision for a more sustainable and future-focused food production solution.
Aeroasis was founded by a young entrepreneur named Thomas Wollenberger while living in a cramped college dorm in early 2015. After months of walking across campus to grow his produce in the campus community garden, Thomas was having problems with pests and the Florida heat. After some careful thought, he decided it was time to try and build an automated hydroponic garden in his dorm. Within a week, the first proof of concept system was built. It wasn't long before Thomas realized the full potential of indoor, hydroponic gardening: with up to 90% less water waste and no pesticides needed, hydroponics was clearly superior to traditional gardening methods he had used in the past. After further experimentation, Thomas felt the need to take his project from concept to company, and so Aeroasis was born.
After several months of isolated R&D, Thomas found some interested investors who were willing to fund his vision for a hydroponic Smart Garden. The seed funding allowed Aeroasis to move past the conceptual stage and build the necessary team to design and prototype their first product: Oasis Mini.
Oasis Mini is a fully equipped and automated Smart Garden with 3 plant chambers. The 3 chamber design reduces waste and increases efficiency through faster growth cycles, more harvests per year, and much more flexibility in plant growth options. Oasis Mini is packed full of features that make the hydroponic growth process not only more effortless but also more enjoyable.
Some of these features include:

An easy setup process requiring minimal maintenance only twice a month
An onboard touchscreen operating system for easy access to controls and growth data over time
Full climate control & automation
Remote text alert function keeping the user updated on plant progress
Full pH regulation & automation
Switchable Smart Glass that allows user to turn glass chamber doors from clear to opaque
Aeroasis is:

Passionate about food sustainability and waste reduction
Building the first three chamber automated hydroponic smart garden ready for consumers
Focused on making food production hyper-local
Ready to take the AgTech industry by storm
Aeroasis is not:

Against outdoor gardening (just tired of the heat and bugs)
Venture funded
What's in the works:

Kickstarter Campaign this month
Closed beta testing round this summer
Philanthropic efforts including food sharing and educational workshops starting summer 2017
Community outreach events and giveaways
Local food production is clearly on the rise in the US. According to a National Gardening Association report from 2014, "...more young people, particularly millennials (ages 18-34), are the fastest growing population segment of food gardeners. In 2008 there were 8 million millennial food gardeners. That figure rose to 13 million in 2013, an increase of 63%. Millennials also nearly doubled their spending on food gardening, from $632 million in 2008 to $1.2 billion in 2013." With this much traction, Aeroasis is poised to be a relevant contributor to a rapidly expanding market.
Aeroasis firmly believes in the power of indoor plant growth technologies and is excited to develop future-focused innovations in food production for years to come.