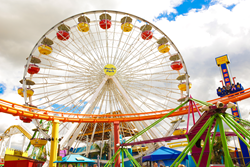 Los Angeles, CA (PRWEB) March 08, 2017
Act fast— less than a week left until the Angelic Auxiliary of Children's Bureau hosts its 15th Annual Carnival at the Pier on Sunday, March 12, 2017 from 10:00 a.m. to 1:00 p.m. at Pacific Park on Santa Monica Pier. Admission includes private use of the park, unlimited amusement park rides, lunch and carnival snacks, unlimited photo booth photos, game tickets, and more. Approximately 400 kids and parents are expected to attend the event which is expected to raise $100,000 net for Children's Bureau, a nonprofit leader in child abuse prevention and treatment.
"We are so proud that all of the funds raised today and through our Patron Drive will go towards helping the many families in Children's Bureau's Family Enrichment Program. Children's Bureau has become a national model for the exemplary work they do providing at-risk families with the tools and resources needed to succeed," said Kathy Outcalt, President, The Angelic Auxiliary.
The major corporate sponsor is AECOM, and additional sponsors include Crusader Sponsors- Marianna and John Linfesty and Carrie and Peter Tilton, Angel Sponsors- The Ahmanson Foundation, Deepthi and Patrick Brown, Leigh and Rich Flisher, Kayne Anderson Capital Advisors Foundation, Kathy and Greg Outcalt, Carleen and Bryant Riley, and Protector Sponsors- The De Monet Family, Jackie and James Hassett, Shawna and Bradley Knyal, Allison and Brian Massey, The Pack Family, Claire and Michael Van Konynenburg.
Ticket price is $90.00 for adults (ages 16 & up) and $45.00 for kids (ages 3 - 15). Tickets will be held for guests at check-in. The Carnival tickets also include free parking in the pier lower lot. To purchase tickets, visit all4kids.org/carnival and watch more details unfold on Facebook @childrensbureau.
# # #