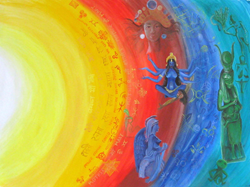 It's about time that we see the fiery spirit in each woman that we meet in our mundane lives
Milipitas, California (PRWEB) March 09, 2017
This Women's Day, artist Sujata Tibrewala celebrates the spirit of everyday women who may appear ordinary to the world but are in reality shaping the future in the most extraordinary way. How often does it happen, that in trying to look at the bigger picture in life, one tends to overlook the small but extremely significant contributions that make up a big achievement? This Women's Day, eco-feminist artist Sujata Tibrewala, brings about a new weeklong exhibition at her Milpitas studio that celebrates the smallest contributions made by women and tries to show how significant the insignificant can be. The artist who has been revering various women of history and their accomplishments through her impressive body of works, this time around focuses her attention on the ordinary womenfolk and their fascinating stories.
A mother on the street struggling to calm her babies, a cleaning woman who puts aside her hardships every day to show up punctually at work, a daughter who is on the verge of embarking a new academic life, wishing to make her parents proud and a working woman who wakes up an hour early to pack lunch for her family – in all these every day situations, the artist finds her heroes. Ms Tibrewala explains that if these women were not making small sacrifices each day, then the world, would have been lot less meaningful. The artist acknowledges that it was her own mother's dreams for her that encouraged her to excel in life. Interestingly, often unknowingly, women are able to give wings to the ambitions and dreams of their loved ones.
With her works, Ms Tibrewala, tries to point out that how, countless women each day with their hopes and aspirations for their loved ones are building up an ambitious generation. The power to make their sons believe that they can achieve what they want, the silent approval to their daughters to go live their dreams fearlessly and the constant support to their husband so that they move ahead in their career graph are all inestimable contributions made by women each passing day.
Through some of her displayed works at the exhibit, Ms Tibrewala wants every woman to feel significant and secure about her pivotal role in the society. If there's one wish that she wants for this Woman's Day then it is the power to make women see beyond their 'weaknesses.' In a displayed painting titled 'Honor,' the artist brings to the fore questions such as - Are women weaker? Is the purpose of a woman's life just loving and nurturing? And her answer to this is, that it's the ability to nurture that make men and women strong enough to take on the world headlong. Another painting titled 'Goddess,' is the reminder that women are capable of leading civilizations and have been worshipped across cultures and communities for centuries in the strongest avatars. She adds, "Its about time that we see that strong Goddess in each of the women we meet, across the street."
About the artist:
Sujata Tibrewala, a self-taught artist come engineer remarkably embodies the indomitable spirit of human existence through her works. Her works revolve around the theme of eco-feminism. She has exhibited her artworks in some of the most reputed venues around the globe such as University of Illinois, Chicago, Raw San Jose, Parallax Art Fair London, the Regional Commission of Arts St Louis, Life Force Arts Chicago, Mindworks Gallery Chesterfield, St. Louis Artists' Guild, Chesterfield Arts, Art World Association, Women's Caucus for the Arts, MySLART and Lalit Kala Academy, Delhi.
She shifted to the USA in 2010 from India and practices her craft and conducts art workshops at Bay Area, CA, where she resides presently.