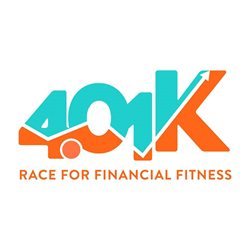 It's an event that brings together two of my passions: running and empowering people to take control of their financial futures. I hope you'll join me in a city near you! —Jean Chatzky, National Financial Head Coach
Orlando, Florida (PRWEB) March 08, 2017
What started as a local road race in Orlando to raise awareness and money for Junior Achievement, has grown into a national event supported by best-selling author and award-winning financial journalist, Jean Chatzky, as well top-rated financial services firms across the country.
Chatzky is the 4.01K Race for Financial Fitness National Financial Head Coach for 2017. As Head Coach, she will provide financial tips leading up to the race through the website - 401krace.com and social media. She will also participate in race events in Orlando. Race participants will also have the opportunity to receive signed copies of Chatzky's brand new book, AgeProof: Living Longer Without Running Out of Money or Breaking a Hip.
"I'm thrilled to be the Financial Head Coach for this year's 4.01k Race for Financial Fitness," said Chatzky. "It's an event that brings together two of my passions: running and empowering people to take control of their financial futures. I hope you'll join me on April 1st or April 7th in racing for good financial health (and a great cause, Junior Achievement) in a city near you!"
The 4.01K race, now in its third year, will take place in Orlando, Minneapolis, Kansas City, San Diego, Nashville, Charlotte and Detroit, raising money for the local programs of Junior Achievement, a non-profit organization that provides financial literacy education to students in grades K-12. In most markets, the race will be held on April 1st (4/01), with a length of 4.01 kilometers (about 2.5 miles).
The 4.01K Race for Financial Fitness was first envisioned and created by Jason Chepenik, managing partner at Chepenik Financial. Chepenik always believed in a correlation between financial fitness and physical fitness and decided in 2013 that a race would be the perfect vehicle to highlight the need for both, while supporting financial education for students.
"Most people know how important planning and saving are, but they don't always know how to start. Working with Junior Achievement, we can educate students at an early age so they're prepared before they even leave for college," said Chepenik.
Last year the 4.01K race raised more than $75,000 dollars for Junior Achievement of Central Florida and the Junior Achievement chapter in Minneapolis.
Race sponsors include BlackRock, American Century Investments, Mass Mutual, Nationwide and more.
For more information, go to http://www.401krace.com.
What: 4.01K Race for Financial Fitness, a road-race to raise awareness for health and financial fitness and funds for the local Junior Achievement chapters. In addition to the race, there will be live music, food, drinks and more.
Where/When:

Orlando – Race Date, April 1
Minneapolis – Race Date, April 7
Kansas City – Race Date, April 1
Nashville – Race Date, April 1
San Diego – Race Date, April 1
Charlotte - Race Date, May 6
Detroit – Race Date, April 1
Media Opportunities:

Interview with Jean Chatzky, 4.01K Financial Head Coach, Award-Winning Personal Finance Journalist, Best-Selling Author
Interview with Jason Chepenik, Race Founder, Managing Partner at Chepenik Financial
Interview with local Junior Achievement spokespersons
Interview with local race coordinators/financial advisor firms
Race footage and b-roll
###
About Jean Chatzky
Jean Chatzky is an award-winning personal finance journalist, AARP's personal finance ambassador and host of the podcast HerMoney with Jean Chatzky on iTunes. Jean is also a best-selling author. Her newest book, AgeProof: Living Longer Without Running Out of Money or Breaking a Hip, which she wrote with Dr. Michael Roizen, came out in February. She believes knowing how to manage our money is one of the most important life skills for people at every age and has made it her mission to help simplify money matters, increasing financial literacy both now and for the future. In 2015, Jean teamed up with Time for Kids and The PwC Charitable Foundation to launch Your $, a financial literacy magazine reaching 2 million schoolchildren each month.
About Chepenik Financial
Since 1973, this family-owned financial services firm has been helping clients develop the resources they need to live healthier, happier, more fulfilling lives. Chepenik Financial offers corporate retirement plans, health and wellness plans, and wealth management services for individuals, companies and nonprofit organizations. Securities are offered through Triad Advisors, member FINRA/SIPC. Investment advice offered through Resources Investment Advisors, Inc., an SEC-registered investment advisor. Chepenik Financial and Resources Investment Advisors, Inc. are separate entities from Triad Advisors. http://www.chepenikfinancial.com.
About Junior Achievement
Junior Achievement empowers young people to own their economic success, plan for their future and make smart academic and economic choices. Through volunteer-delivered K-12 programs, JA prepares students to be financially literate; grounded in free enterprise, leadership and entrepreneurial principles; and ready for the workforce.