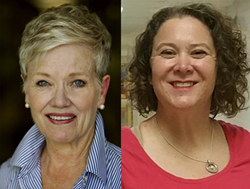 "Connie and Amy are on the front lines of driving change in the mainstream educational system so that all students can succeed. We're very grateful to the Reitnouer family for enabling us to highlight
Princeton, NJ (PRWEB) March 09, 2017
Learning Ally, a national nonprofit organization serving individuals across the U.S. with visual, physical and learning disabilities, will honor two outstanding teachers on April 7 in Denver, Colorado, as part of the organization's 57th annual National Achievement Awards.
The Winslow Coyne Reitnouer Excellence in Teaching Awards recognize exemplary leadership and innovative efforts in classroom instruction for students who struggle to read because of learning differences and visual disabilities. Close to 100 teachers across the country were nominated by an array of students, parents, and other educators. In addition to choosing the top two national awardees, Learning Ally's selection team will identify special honors winners later in April on the Learning Ally website and social media channels.
This year's top awards will be presented to:

Connie Bagley - special educator and reading specialist- Crockett Elementary School, San Marcos CISD; San Marcos TX. Connie has worked with students who have dyslexia and learning differences for over 23 years. She brings vast instructional knowledge and experience not only to the classroom but to her entire district. Thanks to Connie's influence, the San Marcos school system has built a model program for students with dyslexia. She has appeared on TV news programs, in the press and in many community events to expand public awareness. For the past two years, students at Crockett Elementary have demonstrated how profoundly impacting her teaching approach is by enthusiastically participating in Learning Ally's Great Reading Games and winning the highest levels of the national competition. With a panoramic range of training and development experience in supporting students with print disabilities, Connie exemplifies best practices and continues to draw passionate accolades from students, parents and fellow educators.
Amy Kalinchuk - special education teacher at Hamilton Middle School, Denver Public Schools; Denver CO. Amy is passionate about inspiring a love of literacy for her students, and incorporates colorful creativity in her approach to teaching. Amy invites the parents and family members of her students to take part in their reading experience, creating a community of learning around them at home as well as at school; and she is gifted at showing students just how much they can achieve when they learn to advocate for themselves. For the past several years she has greatly expanded her knowledge around working with students who learn differently through a wide array of training, webinars and conferences; and she is recognized by her principal at Hamilton as a leader in conveying best practices to her fellow faculty members.
"Connie and Amy - and teachers like them, who help struggling readers - are on the front lines of driving change in the mainstream educational system so that all students can succeed," says Terrie Noland, National Director of Educator Engagement at Learning Ally. "They have truly leveled the playing field and fostered a passion for learning in their students. We're very grateful to the Reitnouer family for enabling us to highlight their achievements on a national stage."
This is the second year that Learning Ally has presented the Excellence in Teaching Awards to complement its prestigious National Achievement Awards honoring remarkable students with print and reading-based disabilities, who are recognized for their outstanding academic achievement, leadership and community service. Bagley and Kalinchuk will also speak on panels and participate in the Reading in the City Conference in Denver, a gathering of 300-plus educators focusing on best practices and innovation in reading instruction for students who learn differently.
About Learning Ally:
Founded in 1948, Learning Ally supports K-12, college and graduate students, veterans and lifelong learners – all of whom read and learn differently due to dyslexia, blindness or visual impairment, and other disabilities. The organization hosts live and virtual events for families and teachers; provides instructive webinars led by experts as well as peer-to-peer sessions led by students; and professional development workshops for educators. Learning Ally's collection of 82,000 human-narrated audio textbooks and literature titles can be downloaded by students using their smartphones and tablets, and is the largest of its kind in the world. As a 501(c)3 nonprofit, Learning Ally is partially funded by grants from state and local education programs, and the generous contributions of individuals, foundations and corporations. For more information, visit http://LearningAlly.org
.