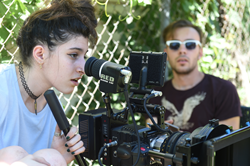 Salt Lake City, Utah (PRWEB) March 08, 2017
Salt Lake Community College film students are sharing director Keenan Panti's finished project with the public March 13, 7 p.m. at Salt Lake City Public Library's Nancy Tessman Auditorium. The free screening will feature the student-made movie "Freezer Burn," which will be followed by a Q & A with the filmmakers.
The movie, starring professional actors, is a family comedy based on a true story, focusing on the difficulty of dealing with the loss of life. The life, in this case, is Dad's prized pet poodle. It's up to 10-year-old Dillon to hold together the hodgepodge of personalities he calls family. The film was shot in 2016 on location in Salt Lake City and at SLCC's Center for Arts & Media.
SLCC's Center for Arts & Media is a state-of-the-industry facility at the College's South City Campus, 1575 South State Street in Salt Lake City. World-class features at the Center include a 2,000 square-foot television studio and control room, a 3,000 square-foot film stage, a 36-seat screening room, three MIDI (Musical Instrument Digital Interface) classrooms, 22 editing bays, an animation lab, radio station and a recording studio with 64 channels that allow for collaboration in editing locations throughout the building. The Center serves an estimated 9,000 students and brings together 17 programs under one roof for SLCC's School of Arts, Communication and Media.