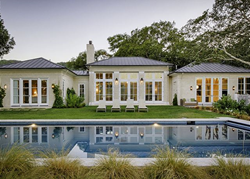 We believe the future growth of private accommodations will rely heavily on delivering guests a consistent, branded experience across destinations and TurnKey will be the company that delivers it
Austin, Texas (PRWEB) March 09, 2017
TurnKey Vacation Rentals, Inc., which has become the third-largest vacation rental management company in the United States in only three years of operation, has secured $21 million in funding to support the company's expansion into new markets and the continued development of its industry-leading mobile technology platform.
Chicago-based firm Adams Street Partners led the Series C round along with existing investors, including Altos Ventures, Silverton Partners and prominent travel industry angel investors. This funding brings the company's total capital raised to $41 million since 2013.
"On the eve of the South by Southwest Conference in Austin, the timing couldn't be better to fund the next stage of TurnKey," says Jeff Diehl, managing partner and head of investments at Adams Street Partners. "TurnKey is an innovative and highly successful company that is setting a new standard for the private accommodations industry, and we're excited to partner with the management team."
One of the fastest-growing start-ups in Austin, TurnKey provides vacation rental management services for thousands of private accommodations across 40 markets in the United States. TurnKey expects to nearly double the number of properties it manages in 2017 and improve on its revolutionary technology platform.
The combination of superior technology and high-performing local teams drives the company's success and allows TurnKey to deliver the most reliable and convenient guest experience along with better property management and more revenue to owners – all at the industry's lowest commissions. TurnKey is led by two highly seasoned start-up and travel industry executives: co-founder and Executive Chairman John Banczak (HomeAway, BedandBreakfast.com, Hotwire) and co-founder and CEO T.J. Clark (Hotwire, IAC, Limos.com).
"We believe the future growth of private accommodations will rely heavily on delivering guests a consistent, branded experience across destinations and TurnKey will be the company that delivers it," says Clark. "We've focused on building a technology and logistics platform combined with local hospitality that enables us to deliver the consistency you'd expect from a hotel along with the unique flavor that makes private accommodations so appealing to guests."
This year, TurnKey will roll out virtual tours, floorplans and 3D models of all its homes, along with omni-channel communications that enable guests to communicate via phone, email, SMS or chat. TurnKey will also launch the next generation of the TurnKey HomeDroid, an in-home tablet that has extensive information for guests, from how to use the home to the location of the nearest gas station.
TurnKey's full-service property management delivers exceptional value to homeowners by generating more revenue, saving time, and delivering peace of mind to owners who know that their properties and homes are receiving the best possible service.
"We charge about half the average industry rate, so guests get a better deal, and homeowners make more of the money," says Clark. TurnKey's proprietary technology platform includes sophisticated tools to help owners manage housekeeping, maintenance, inspections, and other logistics. Owners are provided with the industry's most comprehensive Owner Dashboard that includes real-time financial information, guest reviews, maintenance, and housekeeping tracking, as well as detailed photos of every aspect of a home taken after each stay.
###
About TurnKey Vacation Rentals
Austin, Texas-based TurnKey, the third-largest, full-service vacation rental property management company in the United States, markets and manages premier vacation rentals in 40 markets. Founded in 2012, TurnKey strives to make the experience of booking and staying at a short-term rental better than that of a hotel, providing a consistent, high-end experience for guests. By leveraging tech-enabled services and local support teams, the company provides superior service and more income at lower cost for homeowners. The company is led by Executive Chairman John Banczak (HomeAway, BedandBreakfast.com, Hotwire) and CEO T.J. Clark (Hotwire, IAC, Limos.com). One of the fastest-growing start-up companies in Austin, TurnKey has raised $41 million in funding and has experienced 100+ percent year-over-year growth since its launch.
About Adams Street Partners
Adams Street Partners is one of the largest and most established private markets investment firms in the world. Adams Street commenced its investment program in 1972, and manages $29 billion of assets across five strategies – primary and secondary private equity fund investments, co-investments, private credit investments, and direct venture/growth investments. Adams Street employs 145+ professionals in Chicago, London, Menlo Park, Munich, New York, Singapore, Beijing, Boston, and Tokyo.