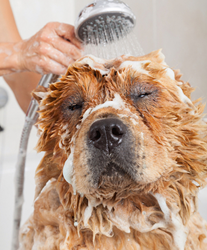 Shedding season can last for up to eight weeks. While there's no 'cure,' it can be managed with frequent grooming.
Wilton, CT (PRWEB) March 10, 2017
Spring is just beginning and, with it, dog-shedding season: eight weeks of dog hair shed all around the house.
"Most pet parents dread this time year because it marks the beginning of shedding season," says Traci Simo, of Canine Company. "In many areas, the weather isn't nice enough to leave the dog outdoors, so all the shed hair ends up in our homes. It seems like we're constantly cleaning floors and furniture at this time of year."
Unfortunately, she says, shedding season can last for up to eight weeks, depending upon the breed. It's a natural process prompted by the increasing hours of daylight, which stimulate the hormones that cause shedding in preparation for the warm months ahead.
While there is no 'cure' for this natural process, shedding can be managed with frequent grooming. Simo recommends doing the following every two to three weeks during shedding season:
First, brush thoroughly. Whether a pet's coat is long or short, frequent brushing is the best strategy for managing shedding. Keep brushing until no more loose hair comes out on the brush. She recommends doing this outdoors, if weather permits.
Next, shampoo and condition. Massaging the shampoo into his coat will help accelerate the shedding process. Rinse and follow with a conditioner, again massaging well and rinsing thoroughly. Be sure to use only products specifically formulated for pets' skin.
Brush again as the coat dries to remove hair loosened during bathing. It's time consuming, but this additional brushing will make a big difference in the amount of hair left around the house. A de-shedding tool, like the FURminator, can help remove stubborn undercoat.
"Frequency – every two to three weeks – is just as important as thoroughness," says Simo. "Managing shedding is a lot of messy work, so many pet parents turn to a professional groomer for help, like Canine Company's mobile pet spa comes right to your driveway and, we not only do all the work, we also take away all the mess."
About Canine Company
Born of a family's love for dogs, Canine Company provides at-home services to keep pets healthy, safe and happy, including the Invisible Fence® brand systems, Manners dog obedience training, and mobile grooming and pet sitting in select markets. Its charitable Canine Gives campaign supports pet rescue groups and donates pet oxygen masks to first responders. For information, visit http://www.caninecompany.com or call 800-818-3647.